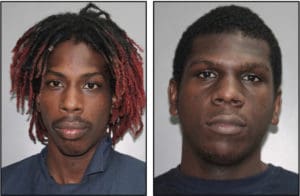 Two brothers, Moises and Hassan Figueroa, were arrested early Monday and charged with second-degree burglary for a crime that took place Sunday morning.
According to police, at about 7 a.m. Sunday, a resident in La Grande Princesse called 911 and reported that personal items had been taken from his home. Among the items taken was a vehicle, police reported.
At 12:53 a.m. Sunday, officers on patrol came across a suspicious vehicle in Estate Whim, Frederiksted. Upon further investigation, officers discovered two men in possession of a Gold Ford Fiesta.
The suspects were taken into custody where, police said, they gave a statement admitting to the La Grande Princesse burglary
20-year-old Moises Figueroa lll , and 18-year-old Hassan Figueroa were arrested and charged with second-degree burglary and unauthorized use of a vehicle. Bail was set at $50,000 each. Unable to post bail they were both remanded to the Golden Grove Adult Correctional Facility pending advice of rights hearing.