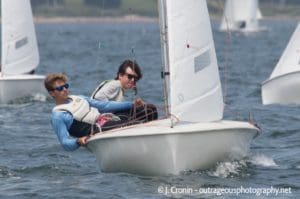 Rider Odom, who started to learn to sail at seven years old at the St. Croix Yacht Club, won the U.S Junior Double-handed Championship on Aug. 10 in La Salle, Michigan. The Bemis Trophy, which Odom's team won, has been a coveted trophy since 1975.
Odom and his teammate, Trevor Davis, dominated the regatta, tallying only 23 points while the next best team recorded 45 points. They started the regatta extremely well, winning two out of three races on the first day. After establishing themselves as contenders they carried the momentum throughout the weekend and won five out of the ten races en route to winning the Bemis Trophy.
Both members of the team are able to take the role of skipper, but the team went with Davis for this regatta since the conditions — light winds with some shifts — were more similar to his hometown of Annapolis, Maryland than the conditions in St. Croix.
Davis came to St. Croix to practice during his spring break, while Odom lived with the Davis family over the summer to put in the necessary training time.
The team placed below the qualifying spots in Cape May in July at the Area C Qualifier, but three teams that placed above them were unable to participate, so Odom and Davis were able to capitalize on the opportunity.
Earlier in the summer, Odom was chosen to be one of four youth sailors to be selected for the Helly Hansen youth team at the Helly Hansen National Offshore One Design Regatta in Chicago. The Helly Hansen youth team finished in eighth place competing mainly against adults.
Rider is considering what school at which to continue his sailing at the next level. Division one schools including Old Dominion University, Roger Williams University and College of Charleston are all potential landing spots.
Rider will continue to compete on the local circuit in the Virgin Islands, as well as the national Class 420 circuit, where he will compete in the Orange Bowl in Miami and Midwinters in Jensen, Florida.