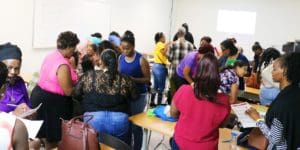 Parents from across the St. Thomas-St. John District gathered on Sunday, Sept. 2, at the UVI Sports and Fitness Complex for the 8th Annual Parent Conference.
Insular Superintendent Dionne Wells-Hedrington and Deputy Superintendent Raquel Berry-Benjamin welcomed parents to the opening of a fresh, new and exciting school year. They discussed the staggered opening schedules and spoke briefly on the ongoing Federal Emergency Management Agency (FEMA) work in the district.
The superintendents then indulged parents in the many new and successful initiatives being implemented in schools, to include departmentalization of teachers into specific content areas on the elementary level; Power Blast messaging software aimed at connecting parents and teachers; iReady software, which provides detailed feedback about student development in math, English/language arts, and the Positive Behavioral Interventions and Support (PBIS) initiative.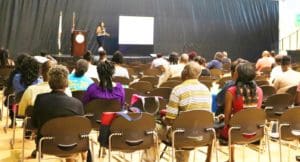 "Life is never easy, so whatever comes to challenge you — be firm, be steadfast and be the best you can be," said Superintendent Wells-Hedrington to embolden parents. While reminding parents of the crucial role they serve in their children's education, the superintendent prompted all parents to use their voice to help students excel.
"We are here to listen to you and to provide support. We can only put all the pieces together through teamwork," she said.
The annual event, coordinated by Director of School and Community Affairs Jerae Forde, featured a series of workshops that covered topics such as: parenting tips, expectations for ESL students, help for students to excel in STEM and insight into challenges that educators face.
Parents engaged with V.I. Department of Education (DOE) leadership and presenters during these interactive presentations by offering their perspectives and participation throughout the event.
Deputy Superintendent Raquel Berry-Benjamin urged all parents in attendance to help bring more parents and guardians of students to participate in this important event. The annual event is critical in helping parents become acquainted with new school policies and to help provide an additional channel for parents to access the leadership teams of schools.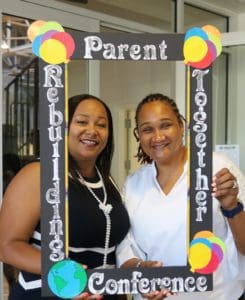 Community organizations were available to provide parents and students information about potential career paths for students, health initiatives, and literary resources. One organization in attendance, G-clef Music Academy, entertained parents with performances by their skilled and talented students.
The event offered a host of resources for parents and students thanks to the contributions of sponsors: Blessing the Children Foundation, Community Resource Organizations, the Office of Senator Jean A. Forde, Christian Family Center (NC) and ACJHS Future Business Leaders of America.