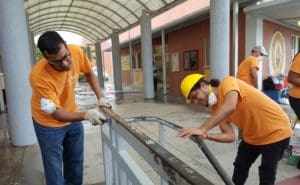 It was a day that ended with a group of dedicated ICMC Program Office team members making a meaningful difference in the Virgin Islands community that they call home.
With scrapers, gloves and masks in hand, the group of Program Office team members got an early start to their day on the morning of Aug. 24, meeting at Cancryn Junior High School at the crack of dawn, prepared to partner with the All Hands and Hearts team members, who now call the school site their home.
More than 30 stateside volunteers have been a committed community partner for the U.S.V.I. since the hurricanes. The All Hands and Hearts group continues to work to offer response for the benefit of both public and private entities on St. Thomas and St. John, such as public and private schools, daycares, and individual homeowners who need assistance with gutting and mucking their homes and facilities.
Recovery assistance also involves reparations and maintenance as well as light construction, as they continue to work to offer support to the community following Irma and Maria.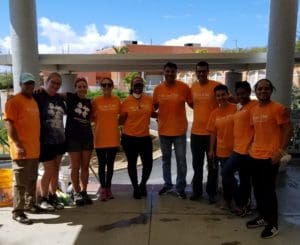 "I was moved by the volunteers that we served alongside and how much they've sacrificed to be here to serve our community," said Program Office Director Scott Perrell. "They are living in a damaged classroom at Cancryn School, without air conditioning and very humble living arrangements, but brought energy and dedication."
On this day, the ICMC and All Hands team was tasked to work on the Bertha C. Boschulte Middle School; they prepared to ready the site for the students' return to school for the new year.
The main task as hand was to prep and paint hand rail fixtures that had endured damaged from the storms, which required meticulous execution, sprinkled with a little patience.
"It was good to work as team on one project. We are working towards more collaboration in the Program Office and this was a good opportunity to work together towards a common goal," said Kevin Habib, assistant vice president of the Program Office.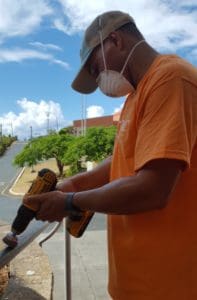 "Bringing our team together to work on a project that benefitted the school and the community was what I enjoyed most about our department's engagement. We also got an opportunity to talk while worked. We learned things about each other that we did not know about before," he said
With a full day of volunteering under their belts, the team was pleased to have accomplished much during their time and chalked it up to a day well spent.
"There's nothing like forming a bond through hard labor. Covered in sweat, rain, dirt and paint, each team member gave their all to make the school entrance more appealing," said Project Manager Amy Leitch.
"I left with a feeling of accomplishment and a renewed appreciation for the dedication that our Program Office team members have toward our community and each other."