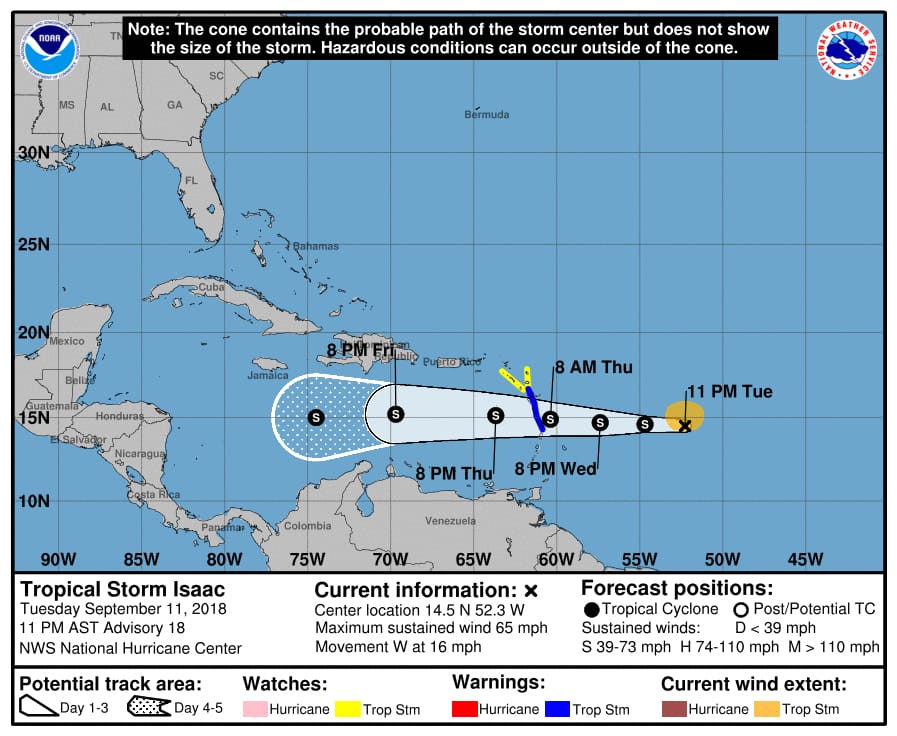 Hurricane and tropical storm watches have been posted for several Caribbean islands as a weakening Tropical Storm Isaac continues its trek toward the Leeward and Windward Islands.
Tropical storm warnings have been issued for Martinique, Dominica, and Guadeloupe. Tropical storm watches are in effect for Montserrat, St. Kitts and Nevis, Antigua, and Saba and St. Eustatius.
According to the National Hurricane Center's 11 p.m. Tuesday update, Isaac has weakened somewhat in the previous 24 hours and is now expected to enter the Caribbean Thursday evening as a tropical storm, rather than a hurricane.
At 5 p.m. Tuesday, the center of the tropical storm was located approximately 916 miles east-southeast of St. Croix near 14.6 degrees North, 51.3 west. The storm is packing top winds of 70 miles per hour while tracking to the west at 17 miles per hour. Tropical-storm force winds extend outward to 105 miles from the center.
The NHC expects Isaac to move near or over the central Lesser Antilles on Thursday, move into the Eastern Caribbean Sea Thursday night, and move into the central Caribbean Sea by the weekend. Current estimates have Isaac passing almost 150 miles south of St. Croix early Friday morning. At that time, Isaac will be a strong tropical storm with top winds of 60 miles per hour. The winds of Isaac are not expected to affect the Virgin Islands.
But that hasn't stopped the territory from preparing for the worst. Effective at 8 p.m. Tuesday, the Coast Guard Sector San Juan captain of the port set port condition X-ray for the USVI and Puerto Rico due to the expectation of sustained gale force winds of 25 mph and gusts up to 40 mph generated by tropical storm Isaac that may arrive within 48 hours.
Under Port Condition X-Ray, ports and facilities are open to all commercial traffic and all transfer operations may continue.
Varlack Ventures announced Tuesday evening that it anticipates the ports will be closed at 8 a.m. Thursday, and said it will announce the last runs between Cruz Bay and Red Hook after Wednesday's 1 p.m. advisories.
According to the NHC 11 p.m. Tuesday update, Tropical Storm Isaac's center is "outrunning" the deep convection by about a degree due to strengthening westerly shear. Vertical shear is expected to increase and turn more northwesterly during the next 36 hours, and Isaac's structure could degrade further over the next day or two.
Shared content for Virgin Islands Source and St. John Tradewinds.