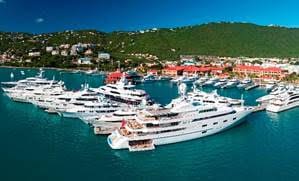 The opportunity to see approximately 60 yachts ranging from multihulls to 90-plus foot motor yachts and to be seen by top brokers from the Caribbean, United States and Europe, makes the USVI Charter Yacht Show a 'must do' for international yacht charter professionals. Set for Nov. 10-13 at IGY's Marinas' Yacht Haven Grande and organized for the second year in a row by the Virgin Islands Professional Charter Association (VIPCA), the 2018 show features a new marine trade expo.
There will also be the highly anticipated 'State of the Virgins Charter Industry' address by those with first-hand knowledge of what's on, what's open and what's up for the season ahead.
"The U.S. Virgin Islands have a lot yet to be discovered by the charter industry," said Oriel Blake, VIPCA executive director. "Known attractions include the Islands' accessibility from the U.S., thus smoothing the way for both charter guests' expeditious arrivals and vessel parts. Also, there's a wide choice of provisioning available to fulfill preferences and provide for a hasty charter turnaround.
The less known attractions are off-the-beaten-track discoveries of the cruising grounds: beautiful, protected private coves tucked out of view of mankind with access to impressive hikes of the St. John National Park, St. Thomas or St. Croix locations, or bays with nightlife near at hand — all within easy reach to further discoveries in the British and Spanish Virgin Islands."
Yachts: Save a Spot Now and Earn Benefits All Season Long
Taking part in the USVI Charter Yacht show is the perfect way for yachts to kick-start a successful Caribbean season. That's because the venue is one of the world's finest luxury marinas. Plus, an action packed four-day schedule provides an outstanding opportunity for yachts and crews to highlight signature services, features and amenities. Exceptionally low berthing rates from Nov. 3-18 of only $1 per-foot-per-day, with advanced booking, assures attending vessels plenty of time to prepare in style. There is also a reduced rate on fuel during these promotional dates for registered yacht show vessels, by prior arrangement with IGY marinas. Beyond this, show vessels can also get reduced berthing rates at IGY's American Yacht Harbor, Simpson Bay Marina and The Yacht Club at Isle de Sol in St. Maarten and IGY's Rodney Bay Marina in St. Lucia, until Dec. 18.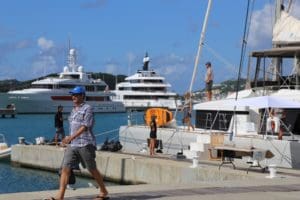 "The show on St. Thomas provides the showroom to fully put on display Suite Life's 92-foot grand, all-inclusive experience," said Captain Roy Sayvetz, owner and operator of Suite Life Yachting. "This VIPCA-sponsored event allows charter brokers to come aboard and experience first-hand the 'Suite Life' and see what we've proudly added and improved. We were thrilled to be a part of last year's VIPCA event on the heels of Maria and Irma and are proud to do it again to kick off the 2018-2019 charter season."
New to this year's show is Blue Gryphon, an 83-foot Prout catamaran.
"We chose to be in the St. Thomas show due to the venue; the location and the timing was key for us," said Capt. Jon Bellamere. "It also gives brokers a good idea of what a pick-up in St. Thomas would be like. This is our first show with Blue Gryphon; therefore, we are super excited to show her off."
Brokers – One Stop Shop to Preview Vessels for the Virgins Charter Season
Size matters at this year's USVI Charter Yacht Show. Not only is VIPCA welcoming a greater overall number of charter yachts, but the organization has appealed to the interests of superyachts to have more 80-plus footers on display, as well. This gives brokers an opportunity to see a larger number and diversity of yachts that to appeal to an even broader client base.
There's also a trio of benefits to make logistics easier for brokers. First, a dedicated, air-conditioned, Wi-Fi and refreshment-equipped Broker's Business Lounge will be available at the marina throughout the show. Second, Dolphin Water Taxi will offer direct service from Nanny Cay Marina, in Tortola, to Yacht Haven Grande, on Nov. 10 and Nov. 11, leaving at 7:30 a.m. from the BVI. Third, discounts on St. Thomas accommodations are available at the Emerald Beach Resort and Lindbergh Bay Hotel & Villas, with transport to Yacht Haven Grande morning and night by VI Best Taxi.
Trish Cronan, president of Ft. Denaud, Florida-based Ocean Getaways Yacht Charters and president of the Charter Yacht Brokers Association International, said, "Now, the USVI Charter Yacht Show is definitely a not to be missed show. They already have a line-up of some exceptional yachts. I think that every broker who books Virgin Islands business should make this show a priority this year."
The 2018 USVI Charter Yacht Show's dynamic schedule will include a culinary competition, themed yacht-hop, cocktail party, awards dinner, sunset cruise, marine expo and industry update, as well as four days of yacht viewing.
For more information or to register, visit: www.vipca.org
Sponsors of the USVI Charter Yacht show include the USVI Department of Tourism, Yacht Haven Grande, the Gowrie Group, Denison Yacht Sales, Moe's Fresh Market, Cardow Jewelers, Stoli, Captain Morgan, distributed by Bellows International, IGY Marinas, the Charter Yacht Broker Association, La Royale Cosmetics and Harbor Shoppers.