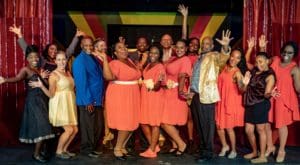 The cast of "Dreamgirls," the premiere play of a six-play season at Pistarckle Theater in Tillett Gardens, features island residents and is directed by Frank Bartolucci. It will open on Friday, Oct. 12.
"Dreamgirls" is the Michael Bennett Broadway hit musical about a Motown-style female vocal trio who rise to fame and then battle against unsavory record executives and the appropriation of their hit song by white singers. "Dreamgirls" book and lyrics are by Tom Eyen, with music by Henry Krieger. The musical is presented by arrangement with Tams-Witmark Music Library Inc. New York, New York.
(Left to right, pictured on the Pistarckle Theater stage) first row: Shantelle Eddy, Ayla C. Shaw, Kyza Callwood, Estelle Andrew, Rubina Wade, Shayla Cruz, Elgin Gordon, Chantelle Bernier, Akira C. Pickering-Haynes, Krystal Setorie-Junkere; second row: Tameka C. Franco, Jonathan Hawkes, Lionel Eddy, Frank Jackson and Sabrina Lettsome. Missing: Nicole Smith and Monique Lynch Richards
Performances are from Oct. 12-27. Tickets are $25 for general seating. Reserved seating is for season subscribers only; there are still subscriber packages available for purchase. For information and tickets, go to www.pistarckletheater.com or call 775-7877.
Visit www.pistarckletheater.com/buy-tickets/ for a link to online ticket sales, or call Pistarckle Theater at 775-7877.
Parking: Due to the limited space in the Tillett Gardens parking lot, there will be patron overflow parking at the Lutheran Church of the Reformation, past the car wash for all performances. Also, for performances on Saturday nights and Sundays only (but not Fridays), patrons may park at the upper parking lot at the Seventh-day Adventists School and Church (black gate entrance across from the Police Station). Four Winds Shopping Center no longer sanctions patron parking. With all parking, anywhere, parking is at your own risk.