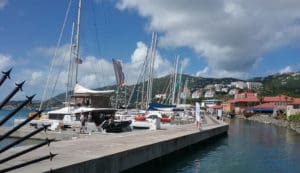 Marine and charter boat businesses that want to join the USVI Hotel and Tourism Association (USVIHTA) will now also benefit from being a member of the Virgin Islands Professional Charter Association. USVIHTA announces its partnership with the Virgin Islands Professional Charter Association (VIPCA), which requires marine and charter boat allied member applicants to be a member of both organizations and be in good standing with VIPCA prior to joining USVIHTA.
"VIPCA is thrilled to have partnered with the USVI Hotel and Tourism Association. This joining of the two facets of tourism, land and sea, is long overdue for a territory consisting of both! It is exciting for everyone to see the marine industry flourish since IrMaria. The combination of USVIHTA and VIPCA membership provides the foundation for charter business's advertising and advocacy needs with the stamp of compliance conformity," said VIPCA Executive Director Oriel Blake.
The decision to enter marine and charter boat applicants into a dual membership came after USVIHTA held a membership meeting in conjunction with the 2018-2019 Day Charter Conference when they were able to see the benefits of a solid partnership with VIPCA.
Members who join both associations will enjoy reduced dues for the dual membership along with great membership benefits from USVIHTA and VIPCA. USVIHTA applicants who qualify for the dual membership will pay $200 as opposed to $250 (increasing to $299 on Jan. 1, 2019), and VIPCA dues will be $200 as opposed to $300. Applicants must be a member of VIPCA to join USVIHTA.
"USVIHTA has always embraced our diverse tourism product which allows visitors to enjoy a variety of land and water activities. Our partnership with VIPCA will work to strengthen our marine product and help both organizations to provide more resources and benefits for our members," said USVIHTA President Lisa Hamilton.
VIPCA is the territory's only 501(c)(6) nonprofit marine association, whose purpose is to promote, protect and further the capabilities of charter yachts and the marine businesses that sustain them. To be a member with VIPCA, vessels must be compliant with specific legal requirements. VIPCA is working with U.S. Customs and Border Protection and the U.S. Coast Guard to further support this.
Joining VIPCA is also a great way to stay informed within the charter community and to be part of the marine industry's voice. VIPCA advertises its members' businesses while furthering and boosting charters each season and supporting the USVI marine industry as a whole.
There are currently over 100 vessel members benefitting from VIPCA's non-profit services, including advertising, access to discounted hull and P&I fleet yacht insurance, and discounts from various marine chandleries, vendors and marinas. A membership with VIPCA also announces that a vessel operates within compliance.