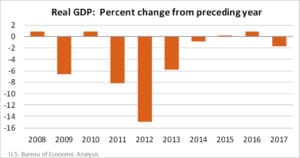 The federal Bureau of Economic Analysis Monday released estimates of U.S. Virgin Islands gross domestic product for 2017, showing a significant decline from the previous year. But new employment numbers show the territory starting to climb out of the post hurricane job downturn.
The decline in the territory's GDP was almost as much as the increase in the GDP stateside.
The territorial GDP decreased 1.7 percent in 2017 after increasing 0.9 percent in 2016. The GDP for the United States (excluding the territories) increased 2.2 percent in 2017 after increasing 1.6 percent in 2016.
Gross domestic product is the total of all goods and services produced in a year, equal to total consumer, investment and government spending, plus the value of exports, minus the value of imports.
The big hit for the territory was spending by tourists. It decreased 16 percent after increasing for five consecutive years, the report said. Tourism arrivals decreased 24.1 percent. The decrease was significant in the months following hurricanes Irma and Maria.
According to the bureau, the decline reflected decreases in exports of services (tourist spending is included here) and consumer spending. The report said there were widespread declines in household purchases of goods and services, including motor vehicles, food, housing, electricity, and health care.
These decreases were partly offset by an increase in investment spending. Investment spending includes spending by both the private sector and by government. Private sector increase reflected increased storage capacity at the oil storage terminal on St. Croix. Construction spending by the territorial government increased, reflecting hurricane recovery work. According to the report, federal government spending also increased significantly due to disaster response.
A graph accompanying the report shows the GDP in the Virgin Island on positive trend from a low point in 2012 until the most recent report.
According to statistics from the federal Bureau of Labor Statistics the territory started to climb out of low point for employment in January of this year. At the end of 2017 just above 35,000 people were employed. By the end of January it had increased to 36,000 and by October to 37,000 people.
In January of 2008 more than 46,000 people were employed in the territory.