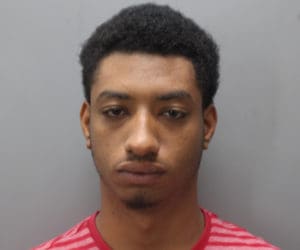 Police officers on St. Thomas on Monday arrested 19-year-old Thierre Jonte Louis and charged him with assaulting a 17-year-old female acquaintance.
According to the V.I. Police Department, the young woman reported to police that she had been assaulted Louis, who strangled and slapped her while she was at his residence. During the investigative process, detectives from the Domestic Violence Unit observed that the victim had red marks, scratches and bruises on her upper chest, neck and chin.
Louis was later apprehended at his residence, police said, and was arrested and charged with second-degree assault/domestic violence.
The case is under investigation by the Domestic Violence Unit. Police urged anyone with information regarding the incident to contact the Investigation Bureau at 340-774-2211, 340-715-5535, the 911 call center, or the anonymous tip service, Crime Stoppers USVI, 1-800-222-8477 (1-800-222-TIPS.)