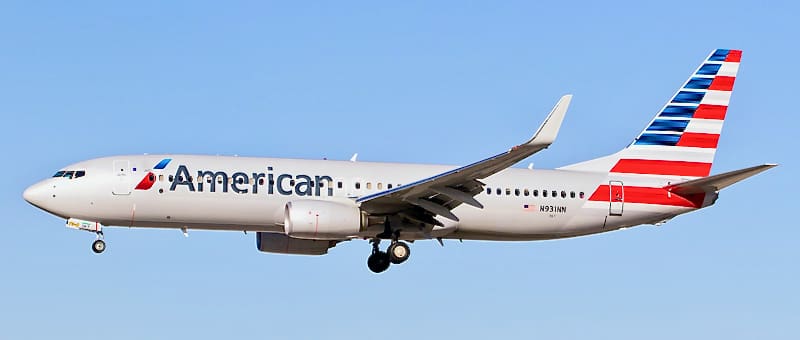 *Updated* The FAA has grounded Boeing 737 Max 8 after a second crash involving the Boeing 737 Max 8 and a grounding of that aircraft type in a number of international locales. Up until the move earlier Thursday, one domestic carrier whose flights call on both St. Thomas and St. Croix operated daily flights to the territory over the last two days using the same aircraft.
According to flight tracking website Flight Aware, American Airlines flights from the Miami International Airport to St. Croix's Henry E. Rohlsen Airport, and flights from Miami to St. Thomas' Cyril E. King Airport were serviced by the Boeing 737 Max 8 jets.
On Monday and Tuesday, American Flight 1293 operated between Miami and St. Croix utilizing the Max 8 jet while the same jet type was used on Flight 943, a roundtrip between Miami and St. Thomas. American operates a second daily flight between Miami and St. Thomas, Flight 1391, with the larger Boeing 757 jet. United had no flights to the Virgin Islands on Monday, and on Tuesday serviced a Newark-St. Thomas flight with a Boeing 757 jet.
American is one of three carriers operating the Max 8 jets, and all 24 aircraft owned by the airline are run out of Miami. A total of 90 flights operate from Miami on routes across the United States, the Virgin Islands and the Caribbean. Southwest Airlines and United Airlines also operate a fleet of Boeing 737 Max 8 jets.
In a statement, American Airlines expressed its condolences to the families of those killed, and said it would continue to monitor the investigation into the crash.
"At this time, there are no facts on the cause of the accident other than news reports," read the statement. "We have full confidence in the aircraft and our crew members, who are the best and most experienced in the industry."
An investigation continues after a Max 8 crashed Sunday in Ethiopia, killing all 157 people on board. It is the second time in less than six months that one of planes has crashed within minutes of takeoff. A new Lion Air Boeing 737 Max 8 flight went down over the Java Sea last October, killing 189 people.
USA Today reported that records show federal aviation authorities in the United States received at least 11 reports concerning the Boeing 737 MAX 8 from professional aviators logged between April 2018 and December 2018. More than 30 countries, including China and European Union nations, have grounded the plane pending further investigation.
In a statement Thursday, Gov. Albert Bryan said he supports the move to ground the planes.
"Erring on the side of caution and ensuring the safety of Virgin Islands residents and travelers to the Territory is our utmost priority," Bryan said. "This Administration supports the decision to temporarily ground Boeing's 737 MAX. While this action may result in changes to normal flight operations and affect airlift, I have full confidence in our travel partner American Airlines to mobilize its assets and resume normal operations in a short period of time."
Flights to and from the Territory on other carriers and from other cities are currently not affected.
"Our team has been at the airport on St. Croix to work with passengers to ensure they have the information needed to make alternate plans," Acting Tourism Commissioner Joseph Boschulte said in the statement from Government House. He encouraged all travelers to check with their airlines to confirm travel plans before heading to the airport.
AA 943 departed St. Thomas to Miami this afternoon, while the outbound Miami-St. Croix flight (AA 1293) is currently grounded at Henry E. Rohlsen Airport. This evening's Miami-St. Croix service (AA 2317) has been cancelled and efforts are underway to secure another aircraft model to transport passengers to the mainland.
The decision of the FAA is in response to the report of two fatal crashes of brand-new Boeing 737 MAX aircraft over the past six months in Asia and Africa. Other countries that have temporarily grounded the aircraft include Australia, Brazil, Canada, Cayman Islands, China, India, Malaysia, Mexico, Russia, South Korea, Singapore, South Africa, the United Arab Emirates and nations across Europe.
Here is the latest update from American Airlines:
13 March – AA 2317 inbound to STX from MIA is cancelled
14 March – AA 2227 outbound from STX to MIA is cancelled
14 March – AA 1293 inbound to STX from MIA will resume normal operations with a different 737
14 March – AA 2317 inbound to STX from MIA will resume normal operations with a different 737
Regular operations, according to American Airlines will resume on Friday, March 15th.