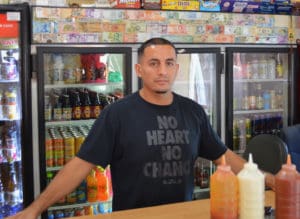 While water service was back on St. Croix's west side, albeit with low pressure as of Wednesday afternoon, multiple days of low to no water pressure in Frederiksted has frustrated residents and hampered local restaurants serving the tourist and local community.
There has been some degree of either low or no water pressure for five days. Some residents said they had no water for several days while others said they were only completely out of water for a day or two.
"It started Sunday night, we lost pressure. We tried to open Monday but we couldn't," said Julia Hickey, manager of 840STX cafe. The restaurant brought in bottled water, but the coffee machine is hooked into the water line and there was no way to just pour water in, she said.
"We are a new business trying to stay open and to close for a day may not be a disaster but it is detrimental," she said.
Some were prepared for an outage but it still created difficulties.
"If I didn't have a backup tank, I'd probably have had to shut down," Islam Qattam, owner of Yam Yam on King Street said.
"I have two employees who had no water for two or three days, using buckets to shower and flush," Qattam said.
The high price of utilities makes it sting all the more.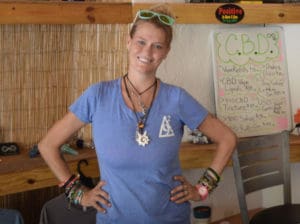 "They charge us a lot of money. It's not the first time the water has gone out, too. And sometimes the water is brown, you just don't want to drink that, and you have to run it for awhile before it's clear. But we still pay for that water," he said.
Going without utilities has ripple effects across many areas.
"A lot of student's didn't go to school because they could not shower," said Rosie, a Frederiksted resident. "Other places have it worse than us. I'm not complaining."
"Saturday I had to take buckets of water to use the bathroom," Marjorie John of Prince Street, Frederiksted said. "I had to buy water to cook."
John said she developed a habit of being prepared for water outages ever since Hurricane Hugo in 1989.
"It's a good thing I kept that practice from Hugo," she said.
The latest challenges began Friday when an electrical failure at the Concordia pump station put it off-line and the level of water at the Kingshill tank dropped to just over a foot in depth, WAPA officials say. The pump station was restored Saturday afternoon, but the water storage level has not exceeded three feet in the last 24 hours. A minimum of six to seven feet of water is needed for basic water service to be provided to the west end of St. Croix. While WAPA kept pumping water into the tank from two pump stations in Contentment and Concordia, it couldn't do so fast enough to outstrip demand and build up capacity.
WAPA Executive Director Lawrence Kupfer said Wednesday afternoon that ongoing efforts to address a potable water service interruption affecting the west end of St. Croix are beginning to yield encouraging results.
At mid-afternoon Wednesday, the water level at Kingshill stood at three feet.
"As the Kingshill storage tank slowly gains capacity, and as we take steps to ramp up the operation of our pump stations across the island we are getting reports of water service reaching residents from mid-island to Frederiksted town," Kupfer said. While a level of six to seven feet is needed for normal water service, service has been restored to areas such as Frederiksted town, the Herbert Grigg Home for the Aged, Mars Hill, and at other locales, he said.
WAPA crews have been out for the last three days inspecting valves and other hardware, scanning the system for any leaks, to make certain that the system is operating to normal expectation and confirming that the only challenge WAPA faces is achieving the levels of water required to normalize service.
Kupfer also said all pump stations at Richmond, Contentment, and Concordia are operating normally.
"We switched out a monitoring device on one pump to ensure that all pumps at Contentment were working to full capacity. Also, crews made repairs to a leaking four-inch line in Frederiksted," he said.
To build up water at the Kingshill tank, starting Thursday WAPA will limit the operating hours of the potable water standpipe in Estate Richmond to 4 p.m. to 9 p.m. daily, he said. WAPA also urged anyone able to switch to a cistern to do so.
Ongoing water service interruptions can be reported by calling 340-773-2250, Option 4.
This outage follows soon on the heels of days of low pressure around Frederiksted in late February due to water main leaks. In February, crews made repairs to water main line leaks in Whim, Hannah's Rest, and near the Frederiksted Fire Station during the past two days, while other crews carried out repairs at both the Contentment and Concordia pump stations.
Like the V.I. government and its retirement system, WAPA, the public utility owned by the people of the Virgin Islands, is in precarious fiscal condition and has been struggling for years with limited resources for maintenance and improvements to make it more efficient and reliable.