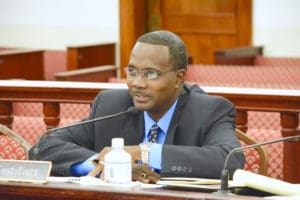 At the West Indian Company's first public meeting in years, West, the board voted to provide Gov. Albert Bryan with a $3,500 per month apartment for when he stays on St. Thomas.
The board's rationale for the move was that Estate Catherineberg, the traditional residence, is unavailable due to damage and environmental deterioration from Irma and Maria.
WICO has for many years claimed it did not have to hold public meetings or open its record despite being owned by the government. Two court cases found otherwise. Bryan recently directed WICO to adhere to public meeting and public records laws.
The rental agreement is similar to a WICO decision in 2015 to pay a $14,500 per month   rent to house him at a villa in Estate Nazareth while on St. Thomas for work.
Mapp's chief of staff, Randy Knight, who was also chair of the West Indian Company board, asked WICO to pay the governor's rent after the Department of Property and Procurement rejected the proposed lease as too extravagant.
WICO rescinded the agreement in the wake of controversy over what amounted to additional compensation for the governor. For the remainder of his term, Mapp stayed in hotels at government expense.
President Clifford Graham reports that Coastal Zone Management has approved the joint permit for VIPA-WICO dredging in the harbor, turning basin and WICO berth area. The Army Corps of Engineers permit is pending. That approval is expected to take 45-60 days. It is estimated that dredging will take one year to complete.
The WICO Board discussed competition from Antigua, which has recently privatized its port. WICO will monitor to see if cruise lines shift from Antigua will yield additional calls to the Virgin Islands. It recognizes that call priority is important as V.I. will get the benefits from early shoppers with early calls on itineraries.
WICO anticipates improvement in 2019-2020 ship calls approaching pre-hurricane season levels.
Committees were appointed by Chairman Joseph B. Boschulte.
In Executive Session the board discussed legal contract negotiations with potential partners in alternative berth development.