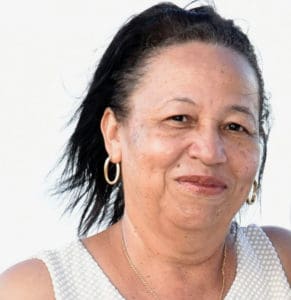 Karen Thurland, local historian and author of "Tradesmen of St. Croix U.S. Virgin Islands" will sign and discuss her book from 4:30 to 6:00 p.m. Thursday at Undercover Books & Gifts in Gallows Bay.
Thurland grew up on St. Croix in a family of tradesmen. Her grandfather, Peter G. Thurland Sr., was a master cabinetmaker. It was on her visits to her grandparents' home, located close to the public library, that the young Thurland's quest for reading was nurtured.
"Those library visits increased my awareness of the written word, and I thought that someday I would be a writer," she said.
Karen's late father Will A. Thurland, to whom the book is dedicated, "was a joiner and a carpenter and a jack-of-all-trades. He was also a teacher, musician, band director, soldier and culture bearer."
The book embodies the lives of eight tradesmen of St. Croix. – A joiner, two goldsmiths, a blacksmith, shoemaker, cabinetmaker, a tailor, and a mason. These native black men operated their own shops in the island's towns and passed on their technical skills to their sons and their apprentices.
This was in an era during the Danish times, and it continued from that colonial period for over 100 years of American rule. These tradesmen contributed to the economic, social and political life of St. Croix through periods of prosperity and financial hardships.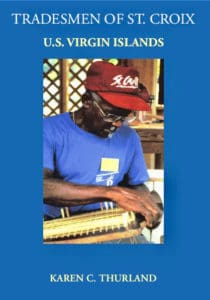 "They are a vital part of the island's history and culture and were respected by the people in the community," Thurland said.
"My interest in writing about a few notable tradesmen on St. Croix began when I started conducting genealogical research and noticed the various occupational trades present on the island during the Danish period."
Thurland also found new information about the Thurland family. They were listed from the 1820s to 1913 as goldsmiths and silversmiths. She knew that her family was cabinetmakers and joiners during the 20th century, but it was her father who told her that her grandfather, Thurland, Sr., broke away from the goldsmith tradition and decided to make fine furniture.
The book continues to reveal enriching stories of Thurland's own family history and of other St. Croix families in the 19th century.
"Arthur Abel was a joiner and builder from Frederiksted who learned his trade from his father. They worked on many buildings in that town and did the gingerbread decorations for many buildings."
These men were active in their churches, served on civic and religious committees and made financial contributions to those institutions. These Crucian tradesmen provided positive guidance to island youngsters.
The book gives many examples of some of the finest artisans on St. Croix, who came from a tradition of sons following in their fathers' footsteps.
Alfonso S. Forbes learned shoemaking from his father and opened his own shop at the age of 16. He tried his hand at music and served in the U.S. Navy Band. He was known as the "March King" when he later became bandmaster of his own band. Forbes worked as an accountant, real estate appraiser and even painted landscapes.
"Carlos H. McGregor, a tailor, and my maternal great-uncle, learned his trade from his father, and together they made uniforms for Danish officials, policemen, and some of the leading citizens of Christiansted," Thurland said.
There were tradesmen who worked both on St. Croix and St. Thomas: Halver I. Moolenaar, from St. Thomas, learned the mason trade from his uncle George, also from St. Thomas. His block-laying skills are legendary and he was known as a mason and general contractor who constructed many houses on St. Croix and St. Thomas.
Although an avid reader, Thurland admitted that the books she read were not about people like her or who looked like her.
"This was my motivation for writing about my people," she said.
"I am an educator, a trained historian and the author of five books, I like interviewing people and I tell them to feel free to speak in Crucian or Standard English. I like to highlight places and events to extend the story," she said.
"There are so many stories to tell. We need more people to interpret and write about Crucian life."
"My cousin Jean Andre Thurland is pictured in the book caning a chair with my grandfather observing him. Andre started learning the trade when he was in eighth grade."
"I started making small artifacts like tables. Later I helped my father at his shop in La Grande Princesse. I caned chairs, made new pieces from templates and prepped furniture for repair," Andre reminisced. "Both of my children have a desire to learn the trade. I still have old tools and some new tools. I teach them how to use the lathe. Marcus is more mechanically inclined, while Christina is into design. My wife Elizabeth sews and designs upholstery covers."
"My friend Carl James worked as an apprentice when I did and today we work together at the refinery," he added.
The book gives the reader a look at the lives and careers of the tradesmen of St. Croix. It goes back in time, filled with pictures and events and vignettes connecting the men from the 19th century to our present day.
In answer to a young apprentice's request for pay, Peter Thurland explained that apprentices did not get paid and then told him, "Let your heart rejoice at what your hands have done."
.