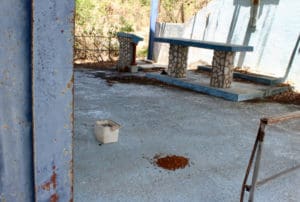 Police on St. Croix are looking for a suspect in the poisoning of three puppies with a highly toxic substance.
According to the V.I. Police Department, at about 8:30 a.m. Saturday the 911 received a report from a citizen who wanted to maintain anonymity, saying he or she had discovered three medium size puppies dead at a church site in Montpellier near Mahogany Road.
The caller reported finding five separate piles of dry dog food with a white powdery substance on top.
There were reportedly a total of five puppies and one adult female stray dog that were being fed at that location for a while. According to the VIPD Animal Cruelty Investigator on the scene, the three puppies showed signs of poisoning. Two of the puppies are still missing, the police report added.
The laboratory results indicated that a highly-toxic poison called Methomyl was detected on the dry dog food collected from the scene. Methomyl is a restricted carbamate insecticide and it was used to poison the dogs.
There have been three other poison cases against animals that the Methomyl insecticide was detected. Those other cases stem from 2015 in the Estate Carlton area, in which five dogs were killed and one survived; Estate Diamond in 2016, where one dog died and one survived; Estate Clifton Hill in 2019, five dogs died and one survived; and Saturday's case at Montpellier.
Police urged anyone with knowledge of who has possession of or is illegally smuggling Methomyl to contact the VIPD Animal Cruelty Investigator, 911, or the anonymous tip service, Crime Stoppers USVI, at 1-800-222-8477.
Tips to Crime Stoppers that result in the resolution of a case can qualify the caller for an anonymous cash reward.