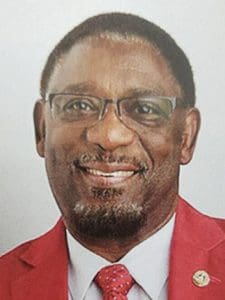 Gov. Albert Bryan Jr. will welcome executives from one of the oldest African-American Greek-lettered college fraternities in the nation to the United States Virgin Islands this weekend.
"I am pleased to welcome Grand Polemarch Thomas L. Battles Jr. and the delegation from Kappa Alpha Psi Fraternity Inc., an organization of worldwide prominence with a rich history over the last 108 years of academic achievement and excellence in leadership," Bryan said. "The fraternity has over 150,000 members with over 720 undergraduate and alumni chapters in every state of the United States, as well as international chapters in the United Kingdom, Germany, South Korea, Japan, United States Virgin Islands, Nigeria, South Africa and The Bahamas."
Kappas have an impressive membership list that includes such notables as athletes Colin Kaepernick and Wilt Chamberlin, talk show host and social commentator Tavis Smiley, BET television network founder Robert Johnson, Astronaut Dr. Bernard A. Harris Jr. (the first African American to walk in space), and Ben Jealous, former head of the NAACP and 2018 gubernatorial candidate in Maryland.
Legendary icons, including tennis great Arthur Ashe, renown attorney Johnnie Cochran, Francis Cecil Sumner (the first African American to earn a Ph.D. in psychology) and civil rights activist the Dr. Rev. Ralph Abernathy, have all appeared on the organization's membership roster.
Other nationally recognized Kappa notables are closer to home and include U.S.V.I. Governor Albert Bryan Jr., currently the nation's only African American governor, and Col. Kudjo Knox-Limbacker, one of the youngest adjutant generals of a U.S. state National Guard.
According to Antonio Emanuel, polemarch of the St. Croix Alumni Chapter of Kappa Alpha Psi Fraternity Inc., Thomas Battles, the 33rd grand polemarch of the international organization, will lead the delegation of six to visit St. Croix and St. Thomas to explore the possibilities of expanding the local alumni chapter, re-establishing undergraduate chapters in the territory, and supporting other local initiatives to further the fraternity's mission of community service.
Accompanying Battles and his wife, Geraldine Woods Battle, will be Ulysses McBride, past grand polemarch; Bertram Orum, southern province polemarch and his wife; and John Burrell, Kappa Inc.'s executive director.
Grand polemarch is the highest office that can be held by a member of Kappa Alpha Psi. Battles serves as national president and chairman of the Grand Board of Directors.
"The local chapter sees this visit as a unique opportunity to strengthen our relationship with this great organization and also, very importantly, to let other Kappas throughout the world know that the V.I. is here to welcome them with open arms," said Emanuel.
Kappa Alpha Psi, originally called Kappa Alpha Nu, was founded in 1911 by a small group of black students attending the University of Indiana in Bloomington while working their way through school. The students, victims of Jim Crow laws which enforced racial segregation, were afforded no part in the social life of the university and were barred from living on campus because of their race.
Drawn together by common interests, they decided that a Greek-letter fraternity would do much to fill the missing link in their college existence. Kappa Alpha Nu changed its name to Kappa Alpha Psi in 1915 and over the next century members have taken pride in executing its mission to "promote the spiritual, social, intellectual and moral welfare of members," while undertaking community service in programs to feed the homeless, mentor young men and provide scholarships to young people matriculating to college.
The delegation's trip to the territory will include tours, organizational meetings and a reception to be attended by members of other Greek organizations charted in the territory.
"Such a golden opportunity to invite and host events and annual conferences of fraternities and sororities here should be viewed as another avenue of expanding the Virgin Islands brand and increasing tourism interest in a traveler demographic which has hundreds of thousands of members," said Bryan.