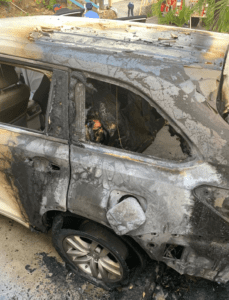 A homeless man was arrested on St. John Monday after he was caught on camera setting fire to the car used by the priest at Our Lady of Mount Carmel Catholic Church in Cruz Bay.
Thomas K. Knight, of no known address, was arrested first on an assault charge, for which bail was set at $1,000. Later in the day, after surveillance footage was reviewed, he was charged with arson; bail for that charge was set at $75,000.
Father Anthony Abraham, who serves as the parish priest at OLMC, said shortly after 7 a.m. Monday someone came to the door to report that his car was on fire.
"When we looked at the video, we saw a man who had been on the island for about a week, whom we had fed," said Abraham. OLMC works with Catholic Charities to serve breakfast and lunch Monday through Friday. They also offer showers and changes of clothes in the afternoon.
Abraham said although the man was relatively new to the island, he was already familiar to the church staff and volunteers. "He had been coming around, being very demanding, not satisfied with what he got," said Abraham. "We heard he was naked on the beach Sunday afternoon."
Later on Sunday, while church members held a rally in Franklin Powell Park, Knight entered the parish hall and had to be escorted out. "Maybe that's what triggered this," said Abraham.
On the morning of the fire, Abraham said two parishioners arrived at the church at around 4 a.m. to pray as they often do. They heard banging on the rectory door, and when they opened it, they said Knight stood there and demanded water. The parishioners supplied him with several bottles of water, and he went away.
But surveillance cameras show that Knight returned a couple of hours later and, after covering his head, apparently made an incendiary device in an orange traffic cone and placed it under the priest's car.
Knight then left the premises, and an explosion followed. When the car started to burn, Knight returned to the scene, wearing a different shirt, and behaved like a spectator. "He came for breakfast that day," said Abraham. "We hadn't seen the video yet.  I've been praying for him; he's definitely disturbed. I'm praying God will touch him."
Community has struggled to deal with the homeless population
For years the OLMC Catholic Church teamed with the Cruz Bay Seventh-day Adventist Church and the Nazareth Lutheran Church to provide the homeless on St. John with access to food, clothing, and showers.
The St. John Community Foundation opened its doors to provide support services in 2017.  As of May 2017, SJCF staff knew of 63 individuals on St. John who were homeless or unstably housed. They estimated that 40 could be classified as chronically homeless. About half were from the Virgin Islands. Almost 90% were males, and about 75% had substance abuse or mental health issues.
The situation changed after Hurricane Irma, according to Senator-at-large Steven Payne.  Although some of the homeless left the island, new ones have arrived. Payne said families sometimes buy their relatives a one-way plane ticket to the Virgin Islands, knowing they will not freeze in the tropical climate.
Police have moved homeless people from makeshift shelters on the beach in Cruz Bay, in the woods nearby, and by the tennis courts, but the homeless find new places to spend their nights. On Thursday afternoon, a homeless man squatted on the curb in front of Wharfside Village with a sign that said, "Please help."
"We really have to do something.  I've been waiting for the new police commissioner to come on board," said Payne, "but this can't wait any longer. We can't force them off the street or to take medication unless they commit a crime or are declared mentally incompetent."
Payne said he would work with community members to barricade a building near the Julius E. Sprauve School that has become an unofficial shelter for the homeless.
Meanwhile, one Cruz Bay resident who lives near the beach said she confronted a homeless woman in her 40's who entered her gate, and came onto her porch, and raided an outside refrigerator for two nights earlier this week. "I told her, 'I have photos of you entering my house. You have to leave the island.'"  The homeowner contacted the police, and she hasn't seen the woman since then.