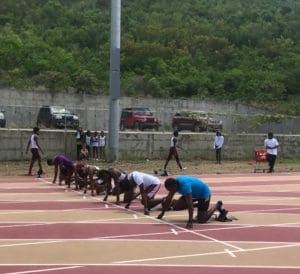 The 2nd Annual Carl Plaskett V.I. Track Championship on Saturday at Ivanna Eudora Kean High School offered national team runners and youth runners an opportunity to qualify for some upcoming international competitions, one being the Pan-American Games.
Even though the runners' times came up short of qualifying times for the Pan-American Games, Dale Joseph, the meet coordinator, said he was impressed with how the event progressed in its second year.
"It has grown a bit, and that's a good thing, because we don't get a lot of track and field competition to help us out along the way. We've had groups from St. Croix and some athletes from our community come out and take a part in it," Joseph said.
Athletes from all age groups competed, and Joseph said it could be inspiring for younger participants to watch national-level track and field stars go head to head.
Joseph mentioned several local athletes that Virgin Islanders should look out for in future races, including Laverene Jones-Ferrette, Brian Slater, Nia Jack, Ahamed and Avery Joseph and Malique, Michelle and Mikaela Smith.
Rashawn Gordon, a long jumper out of Cheetah Track Club, should be an additional name to look for in the near future as well, according to Joseph.
"We need to get something like this going, and keep this going for the near future, because track and field is an exciting sport," he said
The Virgin Islands runners ran well, but just missed the qualifying times for the Pan-American and U-20 Pan American Games.
For the 100 meter dash the women needed a time of 11.55 to clinch a spot in Pan-American games, and both Laverne Jones-Ferette (11.65) and Nia Jack (11.68) were fractions of seconds away from hitting that mark.
In the men's 100 meter the time required was 10.20, and Brian Slater ran a 11.11 while Sadiki Tyson ran an 11.26.
In the 400 meter Rodney Griffin ran a 50.07, but that is behind the 45.50 needed to participate in this year's Pan-American Games.
In the 200 meter women's, Jones-Ferrete ran a 24.11 but 23.18 is the time needed to go to the competition.
The men needed a 200 meter time of 20.55 to qualify for the games, and Malique Smith (21.96) and Brian Slater (22.69) were just shy of that mark.
For the U-20 Pan American Games the story was similar, with a few of the Virgin Islanders putting up good times, just not quite enough to qualify for this year's competition.
In the women's 200 meter, Mikalea Smith (26.36) and Sherna Willimas (26.69) came up just short of the required 24.20 needed to qualify.
In the men's 200 meter, Valence Modeste and Rashawn Gordon both ran a time of 22.94 but needed to shave less than two seconds off their times to hit the qualifying time of 21.35.
Williams needed a 11.80 in the 100 meter dash but ran 12.96.
The men's 100 meter time for the U-20 games is 10.55 while the best finishing Virgin Islander was Gordon who ran an 11.46.
Mikaela Smith ran a 2:21 in the 800 meter but needed a time of 2:08 to qualify.