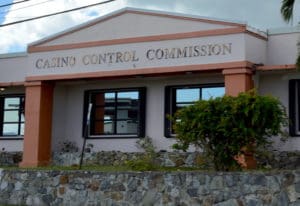 The Virgin Islands Casino Control Commission has rescheduled the Special Commission Meeting of Sept. 24, to 10 a.m., Monday, Oct. 21. Representatives of the DIVI Carina Bay Resort and Casino will be in attendance to provide a status update on the hurricane recovery efforts, transfer of Grapetree Shores Inc. Common Stock, and their request for an extension license.
VIGL, doing business as the Caravelle Hotel Casino, will also be in attendance to present their petition for an Operation Certificate and Permanent Class IV Casino License; provide a status update on renovation and repairs of acquired hotel properties; and a status update on their progress in implementing the racinos provisions.
Members of the V.I. Alliance for Responsible Gaming Inc. has also been invited to give a status update on the operations of the organization. The Casino Control Commission will also consider ratification of casino employee licenses, casino key employee licenses and casino servicing entity licenses, hotel employee registrations and employee work permits.
If in need of any additional information, contact the VICCC Executive Director Barbara James-Petersen at 340-718-3616.