This is the latest in a series of stories on the U.S. Virgin Islands two years after the territory was devastated by hurricanes Irma and Maria.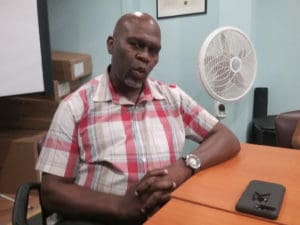 With the two major health care facilities crippled by back-to-back catastrophic storms in 2017, a population needing services had to turn to community clinics. Fortunately for the people of the U.S. Virgin Islands, the two federally funded health centers were up to the task.
But clinic directors at the St. Thomas East End Medical Center and the Frederiksted Clinic pointed out their mission was primary care, the kind of medical attention patients need to treat ailments, injuries and chronic disease maintenance. They were not able to treat the badly injured or those struggling with life threatening ailments.
Still, the St. Thomas clinic treated 4,000 patients in the year after the passage of hurricanes Irma and Maria, said clinic director Moleto Smith. Many of those patients had never seen a doctor or a dentist before in their lives.
On St. Croix, Director Masserae Webster said the Frederiksted Clinic also saw a spike in new patients. As was the case with her St. Thomas counterpart, the community clinic stepped in.
"Quite a few private service providers have refused to continue providing services. Can't say exactly how many. Our numbers have gone up since the storm," Webster said.
In addition, workers displaced from their jobs and no health insurance turned to the community clinics.
According to the Rural Health Information Hub federally qualified health centers serve one out of five rural residents across the United States. The U.S. Virgin Islands falls into that category.
Whether the patient is uninsured, underinsured or enrolled in Medicaid, homeless or migrant, all are eligible for health screenings and treatment at no cost, or on a sliding scale fee.
How the two community clinics were able to provide continuing care after Irma and Maria, however, differ. For Webster on St. Croix, the answer was strategic. While the Frederiksted Clinic took the worst of what Maria dealt, there were four other community clinics on the north shore, mid-island and one operating within the public school system.
That made the loss of the main site in Frederiksted more bearable.
"Our main site is in Frederiksted, but we do have satellite sites around St. Croix," she said.
On St. Thomas, the East End Clinic was in a central location at Tutu Park Mall. But, Smith said, the mall was closed. Patients couldn't come in, so the management and clinic staff decided to meet them at the front door.
Doctors set up a triage in the mall lobby to assess those needing medications. They set up a dispensary to distribute medicines.
"That provided a basis for us to distribute medication to so many people because the pharmacies weren't up. There wasn't a way for so many people to get their prescriptions filled, and for some people it was a matter of life and death," Smith said.
Having made it through and managed the influx of new patients, both directors are seeking ways to build greater resilience into their health care systems.
For Webster, the problem is logistics.
"I think we were pretty prepared. We had a challenge getting fuel for the generator. We got a lot of donations of medical supplies from the outside," she said.
The problems remains emergency power. After Irmaria, when Webster called to ask for generator fuel, her plea landed on a priority queue; one she said was hard to argue with.
Smith said his priority at the East End clinic was helping patients still suffering from storm-related trauma.
"From Sept 2018 'til now we began to focus more on a community health worker program which we'll be starting up very soon. We're actually recruiting the person now that's going to head that effort up," the director said. "We are transitioning to a new electronic health record system that will allow us to bring the access to care closer to patients through patient portals, to using the technology allowing folks to be able to monitor their health maintenance."
Smith said the circumstances stemming from the hurricanes prompted some of these innovations.
"It became more of a priority in the aftermath of that experience because we see the patients more so than any other aspect of health care on St. Thomas-St. John. We serve the insured, we serve the underinsured and we serve the uninsured. We provide, the most comprehensive one stop of services," the director said.
Other stories in the "Two Years Post-Irmaria" series are:
Two Years After Irmaria: V.I. Bats Hanging On
Two Years After Irmaria: Getting a Count of Frogs
Two Years Post Irma: Marine Life Begins to Recover
Two Years Post Irma: Recovery of Plants and Trees Continues
Irmaria Anniversary Sees More Homeowners Suing Insurers
Remnants of Irma and Maria: Two Years Later, Blue Roofs Still Abound