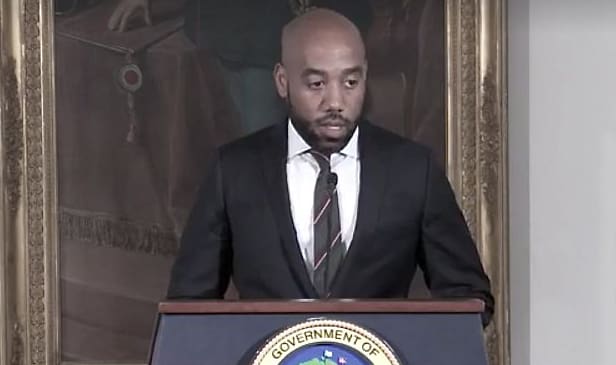 Recently returned from a trip to Miami and the United Negro College Fund's 75th anniversary conference, Gov. Albert Bryan Jr. will leave again at the end of the month on a trip that puts him in front of Congress and the Department of Housing and Urban Development representatives for discussions on Medicaid and federal disaster recovery funds for the territory.
At Monday's weekly news briefing, Government House spokesman Richard Motta Jr. said talks with Congress will focus on the extension of the so-called "Medicaid cliff," the expiration of federal funds needed to supplement what the territory receives in Medicaid block grants. Those funds – through initiatives such as the Affordable Care Act and disaster legislation that was pushed through after hurricanes Irma and Maria – expire in large part on Nov. 21, after which the territory will receive a capped allotment.
Bryan will also travel Tuesday to Puerto Rico to participate in a series of meetings at the Florida Caribbean Cruise Association's annual conference, which Motta said Monday could positively impact the territory's tourism growth. Bryan's appearance at the United Negro College Fund's conference last week was also an opportunity to put the U.S. Virgin Islands on the national stage, Motta said, as the governor was able to discuss the University of the Virgin Islands' standing as the only Historically Black College or University to offer free tuition.
Public Works
As a reminder, Motta said the Department of Public Works, St. Thomas-Water Island Administrator Avery Lewis, V.I. Waste Management and Sen. Dwayne DeGraff's office began their aggressive cleanup of the Savan area on St. Thomas on Monday, which will run through Saturday. In conjunction with private partners, crews will clean up the neighborhood during the week. Residents are encouraged to put out household and bulk waste (refrigerators, stoves, etc.) for pick up.
Starting at 2 p.m. Saturday and running through the rest of the afternoon, residents are invited to join the cleanup. Understanding that residents work during the week, crews will be doing much of the heavy lifting Monday through Friday, but on Saturday, the entire community is urged to get involved.
Motta said the process has begun for repairs to the Estate Carlton Road in Frederiksted on St. Croix. Public Works is expected to hold its pre-bid meeting for interested contactors starting at 11 a.m. Thursday in the Department of Property and Procurement's conference room on St. Croix.
Repairs were jumpstarted by a letter sent to Bryan by a sixth grader at Claude O. Markoe School, who spoke about the state of the road.
"We've answered the call, and we're excited today to announce the process has begun to repairing that badly damaged road," Motta said. A site visit for contractors is scheduled after the meeting.
Final Swearing-in Ceremony
The administration held its final swearing-in ceremony Monday, adding nine more to its 29-member Cabinet. Motta said at the news briefing that Bryan emphasized during the ceremony the need to keep pushing a "transformative agenda, which will stabilize the V.I. government and restore public trust to rebuild and sustain a vibrant economy."
Taking the oath of office Monday were:
– Trevor Velinor, Police commissioner
– Kimberley Causey-Gomez, Human Services commissioner
– Richard Evangelista, Licensing and Consumer Affairs commissioner
– Kodjo Knox Limbacker, Adjutant General of the V.I. National Guard
– Rupert Ross, Bureau of the Information Technology director
– Daryl Jaschen, Virgin Islands Territorial Emergency Management Agency director
– Raymond Williams, V.I. Lottery executive director