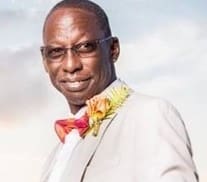 The Virgin Islands Basketball Federation (VIBF) expresses its deepest sympathies to the wife, Juanita Iles Richards, and the family of our late president, Theron "Ronnie" Richards. Ronnie was elected as our president in July of 2014 for the 2014-2019 term. His involvement with the federation began in 1981 when he served as the team manager for the Senior Men National Team at the Centro Basket Championship held in San Juan, Puerto Rico.
His dedication and love for national competition led to his serving in that capacity for the Junior Men National Teams and Senior Women National Teams. Ronnie worked tirelessly to identify and recruit players from all age groups, females and males, at home or abroad, in his efforts to ensure the Virgin Islands was well represented. He was key in the identification of coaches on the mainland with Virgin Islands connections, and he encouraged them to contribute in the development of our national teams.
In 2017 Ronnie's health left the leadership of the federation in the hands of the vice-president, Dean Adams. Acting President Adams said, "On behalf of the Board of Directors of the Virgin Islands Basketball Federation, our coaching staff and members of our national teams, we would like to express our deepest condolences to Ronnie's wife Juanita, their family and loved ones. Please know that our thoughts and prayers are with you during this difficult time. Ronnie's passing is a great personal loss of a dear friend and even greater loss to basketball in the Virgin Islands community. His commitment and hard work for basketball will always be remembered."
The federation's treasurer, Averil George, said, "It was Ronnie's commitment to getting the job done, despite obstacles and hurdles to overcome, that convinced me to join the federation's executive. I will continue to treasure his dedication, friendship and commitment to improving the sport of basketball. Our thoughts and prayers are with Juanita and his family during this difficult time."
Theron is the brother of former FIBA Americas president and current FIBA Americas treasurer Usie Richards. Usie said, "Juanita and our family are appreciative of the federation's recognition of Ronnie's commitment and contributions, and your kind words during this difficult time."
Theron "Ronnie" Richards died Nov. 26, at the Mayo Clinic in Jacksonville, Fla. He will be laid to rest on Dec. 19 in Frederiksted, St. Croix.