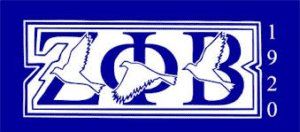 Zeta Phi Beta Sorority Inc., one the country's largest African American women's service organizations, will mark its 100th year of service on Jan. 16, 2020.  Valerie Hollingsworth Baker, Zeta's International Centennial president, will kick off the week in Washington D.C. by unveiling an exclusive line of Zeta-inspired St. John apparel, followed by activities featuring Washington D.C.
The event will feature Mayor Muriel Bowser and Zeta member Anita Hill, former congresswoman and Zeta member Donna Edwards, award-winning journalist April Ryan, Vivica A. Fox, actor Lamman Rucker, R&B artist Raheem DeVaughn, R&B artist and Zeta member Syleena Johnson. There will also be electrifying performances by The Chuck Brown Band, Zeta member DJ Poizon Ivy and DJ Heat, and the Zeta International Choir.
"This is a historic moment for Zeta Phi Beta Sorority Inc. Finally, our epic Centennial Celebration begins. I am elated to lead these amazing women at this time in our history," said Hollingsworth Baker. "We are thrilled to welcome our sisters who are travelling from across the world to Washington D.C. Together, we will commemorate all that we have accomplished in the last 100 years and look forward with anticipation to what we will achieve next."
The local chapters of the sorority include Nu Chi Zeta (St. Croix), Chi Rho (UVI Albert A. Sheen Campus), Omega Upsilon Zeta (St. Thomas) and Gamma Alpha Mu Zeta (BVI).
The Virgin Islands State Director, Etta L. Pickering-Mitchell said, "We are equally excited to bring a variety of centennial activities to our shores, as this is a once in a lifetime moment to celebrate 100 years of greatness, not only nationally but internationally! The sisterhood is definitely excited, and we are ready to etch this experience in our hearts. Locally, the centennial activities will incorporate the principles of the sorority, which are scholarship, service, sisterhood and finer womanhood."
About Zeta Phi Beta Sorority Inc.
Zeta Phi Beta Sorority Inc. was founded in 1920 on the campus of Howard University, and it is headquartered in Washington D.C. Zeta has initiated a diverse membership of more than 125,000 college-educated women with more than 850 chapters in North America, Europe, Asia, the Caribbean, Africa and the Middle East. When Zeta populated the United States Virgin Islands in 1987, the focus was to address our community concerns, which we have done and will continue to do through hosting awareness activities as well as providing much needed services in conjunction with other reputable non-profit organizations.  For more information about Zeta Phi Beta Sorority Inc., visit www.zphib1920.org.