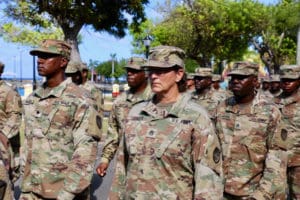 In honor of military appreciation month, the University of the Virgin Islands – Center for Excellence in Leadership and Learning (UVI CELL) will hosting a series of virtual workshops for Virgin Islands veterans.   National Military Appreciation Month honors current and former members of the U.S. Armed Forces, including those who have died in pursuit of freedom.  UVI CELL joins the nation in paying homage to those who have valiantly served the country.
The Military Resiliency workshops are a series of workshops designed to provide support for members of the military and their families so that they can better cope with adversity, adapt to change and overcome challenges.  The first workshop will be held from 5:30 – 7:30 p.m. on May 26, 27 and 28. The three-day session will provide practical information on how to prepare, weather and bounce back from the storms faced as a warrior.
To qualify for this training, participants must be military veterans, transitioning service members or a military family member.  Individuals who provide counsel, clergymen or those dealing with service members are also eligible to participate.
The workshop will be offered at no cost to qualified Virgin Islands veterans.  To determine eligibility, veterans can submit an online application by visiting https://cell.uvi.edu/information-for/military-and-veterans.aspx.
For more information on the course, send an email to [email protected].  For more information on eligibility, veterans can send an email to the Office of Veterans Affairs at [email protected].