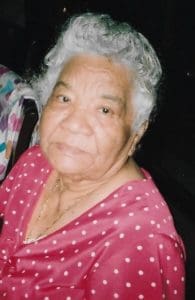 Orosia Figueroa Hernandez of Estate Clifton Hill died May 27. She was 89 years old.
She is preceded in death by her spouse, Juan Jose Hernandez (Gabriel); mother, Florentina Ayala Navarro; father, Monseratte Figueroa Rivera; granddaughter, Rona A. Simmonds; great-granddaughter: Renesia Petrus; and special friend, Luisa Solis.
She is survived by her daughters: Maria L. Felix Pierre and Carmela Hernandez Ayala; son, Alejandro Felix; grandchildren: America A. Perez, C. Alejandra F. Munoz, Evangelista J. Ayala Jr., Alejandro Ayala, Mariluz Felix, Manuel Ayala and Jasmine R. Bolton; and great-grandchildren: Rhe-Anne Martin, Rihonna Snipe, Neishalee Perez, Victor M. Perez III, Daisha Ayala, Jaslene M. Ayala, Alejandro Ayala Jr., Gabriel Ayala, Thalia Ayala, Adam Munoz, Aidan Munoz, Ashlee Gabourel, Anais Madera, Carla Phangyou, Austin Munoz and Ava Munoz.
She is also survived by great-great-grandchildren: Kenesia Godwin, Jamaul M. Henry Jr., Jamaur M. Henry, Erheion Bates and Austin Wise; nieces: Florentina Wyant, Maud Veronica Gaston, Patricia Rawlins, Orosia Figueroa, Ana Figueroa, Lisa Hernandez, Nereida Roldan, Eva Figueroa, Sara Figueroa and Nora Figueroa; nephews: John Figueroa, Andres Figueroa, Jose Figueroa, Gumercindo Figueroa Jr., Jose Roldan, Francisco Figueroa and Albert Figueroa; daughter-in-law, Carmen L. Felix; sons-in-law: Evangelista J. Ayala, Sr. and Moses N. Pierre; and sister-in-law, Jean Figueroa.
Other survivors include special friends: Daisy Paul and Melba Jackson: Other relatives and friends: the Ayala, Navarro, Gaston, Felix, Figueroa, Serrano, Wyant, Snipe, Henry, John, Crossman, Garcia, Pereira, Joseph, Ellidge, Ford, James, Solis, Martin, Rawlins, Perez, Simmonds, Hodge, Sealey, Caines, Henderson, Petrus and Huertas families, and members of Iglesia de Dios Pentecostal, M.I. Estate Calquohoun; as well as other relatives and friends too numerous to mention.
the funeral service will be held at 10 a.m., Friday, June 12, at Kingshill Cemetery. The family respectfully requests that attendees wear a face mask and adhere to the social distancing requirements.
Thank you for your blessing and prayers during this time.