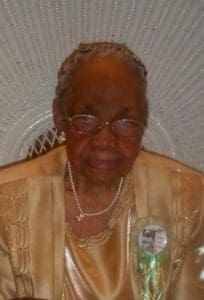 Ruth E. Challenger Sealey of Estate Sion Farm died on July 29. She was 95 years old.
She was preceded in death by her spouse, Eric A. Sealey; mother, Ann Louisa Sutton; father, James Challenger; daughters: Floris Matthews and Frances Frazer; and grandson, Ibushio.
She is survived by her daughters: Augustina Pitt, Edna Senior, Elna Sealey, Doreen Sealey-Mairs and Cheryl Sealey-Torrence; sons: Eric A. Sealey Jr. and Neville Sealey; grandchildren: Ronald, Michael, Earl, Kenneth, Sharon, Jason, Donna, Charles Jr, Tracy, Curtis, Gloria, Anna, Tisha, Ibio and Iasha; 39 great-grandchildren; 43 great-great-grandchildren; sons-in-law: George Pitt, Wilfred Mairs and Louis Torrence; special friends: Dorothy Messer, Emily Chadband and Vangi Jackson; godchild, Shermaine Samuel; stepson, Joseph Thomas; as well as other relatives and friends too numerous to mention.
Funeral service and burial will be held at 10 a.m., Thursday, Aug. 6, at Kingshill Cemetery. The family respectfully requests that attendees wear a face mask and adhere to the social distancing requirements.