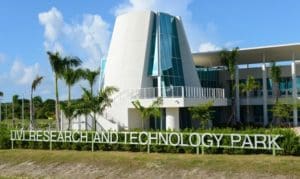 U.S. News & World Report Ranks UVI No. 7 Top Public School Among Southern Regional Colleges In the much-anticipated release of its 2021 edition, U.S. News & World Report published its 'Best Colleges' report this week, ranking the University of the Virgin Islands (UVI) number seven among the top U.S. public schools in the category of Regional Colleges in the southern region. Additionally, among all southern Regional Colleges, UVI ranked 36 and received a ranking of 36 on the Social Mobility measure.
"We are very pleased that UVI has been so highly recognized by a prominent publication and trusted authority on college rankings," said UVI President, Dr. David Hall. "UVI's high marks affirm our commitment to excellence, student success and to ensuring all Virgin Islands students can afford higher education," said Dr. Hall.
U.S. News & World Report publishes the Best Colleges list annually based on the evaluation of more than 1,400 colleges and universities in the U.S. on 17 measures of academic quality. To make reasonable comparisons between colleges and universities, schools are grouped into different categories based on academic mission and geographic region. In the Best Colleges rankings, UVI is categorized as a Regional College located within the southern region. Ranking factors include graduation and retention rates, undergraduate academic reputation, faculty resources, student selectivity, financial resources per student, alumni giving rate, graduate indebtedness and social mobility.
More information is available in a news release on the Media Section of the UVI Website at http://www.uvi.edu/
President David Hall Leads Roundtable Discussion on Disparity and Racism The UVI Center for Excellence in Teaching and Learning (UVI CELL) hosted a round table discussion on "Disparity and Racism in Higher Education" where President David Hall led the discussion on the importance of UVI embracing a culture of diversity. "Historically and presently discussions of race and racism have always been a challenging topic to address and discuss and even to teach," said Hall. "Therefore, I applaud each one of you for embracing this moment so that you can be a part of this discussion."
To view the roundtable discussion, click the following link: https://zoom.us/rec/play/KPttoKAhSuvVC45zacox8aXqZOQ5qW7uDzXE4cwar48WWQyUnBNIzMP9oZtwr2r1K4XwgRcaQGmNntKB.ZUugZ-_4Gyqmjtqe
UVI Students will Share their Experiences as Study Away Panel on Oct. 1 and 15 Via Zoom UVI students and the community are invited to hear from a panel of students who studied away at noon on Oct. 1 and at 3 p.m. on Oct. 15, via Zoom.