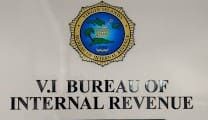 Director of the Virgin Islands Bureau of Internal Revenue Joel A. Lee, CPA, informs all taxpayers that the amnesty programs enacted by the 33rd Legislature will begin on Monday, Jan. 11, and will end on Wednesday, June 30.
Gross receipts tax obligations for all months up to November 2020 and all annual gross receipts tax returns up to 2019 are eligible for the amnesty program. Taxpayers who pay all gross receipts taxes owed, will have the interest and penalties abated under this program.
In addition, income tax obligations up to tax year 2019 are eligible for the waiver of penalties for those taxpayers who pay all outstanding income taxes and interest.
Payments under the amnesty program should be made by cash, credit card (Visa or Mastercard), checks and money orders. Director Lee reminds those taxpayers who have made payments with dishonored checks in the past, that they will be required to pay with bank checks in order to take advantage of the programs. Furthermore, delinquent taxpayers will be required to file any and all outstanding returns in order to take advantage of the amnesty.
For more information, call the Delinquent Accounts and Returns Branch on St. Croix at 773-1040, extension 4254, or on St. Thomas, at 715-1040, extension 2232.