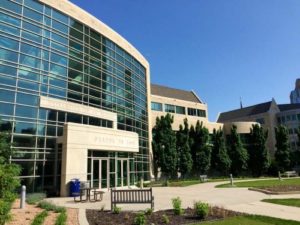 Renowned Reverend, U.S. Senator Raphael Warnock Selected to be Keynote Speaker at UVI's 2021 Online Commencement Ceremony; Honorable U.S District Court Chief Justice Wilma Lewis and UVI Board of Trustees Emeritus Chairman Alexander Moorhead to Receive Honorary Degrees Renowned Reverend and United States Senator Dr. Raphael Warnock will be the keynote speaker at the University of the Virgin Islands 2021 online commencement ceremony at 1 p.m., Friday, May 14. This ceremony will celebrate the achievements of students from the Albert A. Sheen Campus on St. Croix; the Orville E. Kean Campus on St. Thomas and the University of St. Martin. The decision to convene another online commencement ceremony was made as the university continues to take necessary precautions to mitigate the spread of the coronavirus.
"The university is excited to produce yet another virtual commencement ceremony as we understand the significance of commencement ceremonies to our students and their families, and we remain committed to giving our students the best experience to recognize their hard work and achievements," said UVI President David Hall. "The Class of 2021 deserves high recognition for having persevered through a pandemic that forced them to suddenly adapt to new learning methods and having successfully completed this important chapter in their lives.
"We have selected a keynote speaker who epitomizes overall excellence," Hall said. "Reverend Raphael Warnock is not only a highly recognized pastor, but he is also known beyond the doors of his church for his social and political influence in defending the voting rights of those in his state. I think that as a product of an HBCU, Reverend Warnock's recent ascension to being Georgia's first Black senator and the first Black Democrat to represent a southern state in the United States Senate will also serve to inspire our students as they prepare for their careers."
More information is available in a news release on the Media Section of the UVI Website www.uvi.edu/.
Jumpstart Your College Experience with Summer Bridge 2021 The University of the Virgin Islands Center for Student Success presents the Summer Bridge 2021 Program for incoming students. Complete up to four UVI developmental courses in one summer and earn one-degree credit for the fall semester at no charge. From June 13 to July 17, incoming students will utilize campus resources, participate in professional development and obtain career advisement.
During this intense five-week program, students will be afforded the opportunity to live on campus and improve on their math, reading, writing and life skills.
"College is bittersweet; however, The Summer Bridge Program is designed to give our students a taste of such independence. With working hard comes rewards. Therefore, we incorporated different fun activities," said Maria Fleming, Ph.D., interim director/assistant director of Center for Student Success and director of the Summer Bridge Program.
For more information, contact Dr. Maria Fleming at 692-4183 or at mflemin@live.uvi.edu.
Community Glass Drop-Off Scheduled for from 9 a.m. to 11:30 a.m., May 1 The next Community Glass Beverage Bottle Drop-off is scheduled for 9 a.m. – 11:30 a.m. on Saturday, May 1, at the former West Bay Supermarket parking lot.
This change of date is due to a scheduling conflict with the Great Mangrove Cleanup that is currently scheduled for April 24.
As with the previous drop-off, we are asking persons to please make sure their glass is:
Not broken
Does not contain any liquids or food such as lime wedges, and
All caps including the metal sleeve around the neck of the bottle are removed. We will only accept GLASS BEVERAGE BOTTLES (beer, wine and spirits); please do not bring vinegar bottles, sauce jars, etc. as these will not be collected for crushing.
Interested volunteers can register at https://docs.google.com/forms/d/e/1FAIpQLScocXw10BQWBsHmUW7ahJmNKfRj6v9wf2Li6gd2f8WXx7hdkQ/viewform.  Students can receive community service hours for their time.
For more information, contact Howard Forbes Jr. at 693-1672 or email howard.forbes@live.uvi.edu.
The VI Literary Festival & Book Fair Rescheduled for April 30 – May 2 The upcoming VI Literary Festival and Book Fair has been rescheduled to Friday, April 30 through Sunday, May 2. According to Festival Chair Alscess Lewis-Brown, the event has been pushed back to ensure full engagement from the Caribbean diaspora.
The University of the Virgin Islands' international journal, The Caribbean Writer, together with the Virgin Islands Literary Festival and Book Fair (VI Lit Fest) will host this 7th iteration of the literary celebration under the theme, "Diasporic Rhythms II: Interrogating the Past; Imagining a Future."
The festival will begin with Pre LitFest activities aimed at school children held during the morning hours of Friday, April 30, while the main part of the weekend program will be staged from 1-6 p.m., Saturday afternoon, May 1 and from 1 to 6 p.m., Sunday, May 2. The Book Bacchanal where authors can present and discuss their books is also slated for Friday from 4 p.m. to 6 p.m.
Award-winning authors Edwidge Danticat, Kwame Dawes, Canisia Lubrin, Vladimir Lucien and Jacqueline Bishop will headline the festival along with other internationally recognized and award-winning local and regional authors including Tiphanie Yanique, Rozena Maart, Tobias Buckell, Cadwell Turnbull, Richard Georges and Biko McMillan.
Throughout the three-day festival, these authors will engage in discussions, conduct poetry and writing workshops, as well as offer editing and publishing tips.
More information is available in a news release on the Media Section of the UVI Website www.uvi.edu/.
Grant Writing Course Being Held for Non-Profit and Faith-Based Organizations Developing a competitive grant proposal can be a daunting task but understanding the elements of a successful proposal can mean the difference between a proposal being funded or rejected.
UVI CELL is encouraging non-profit and faith-based organizations to take advantage of this unique opportunity to learn effective and successful grant writing strategies. The course – "Winning Grants: Essential 21st Century Proposal Writing Techniques" – will be held from 6-8 p.m., Tuesdays and Thursdays, starting April 6 via Zoom.
This action-learning lab is designed for grant writers and development staff who work in non-profit and faith-based settings. It is open to both novice and experienced grant writers who would like to enhance their skills in response to heightened competition for available funds.
The course covers a range of topics such as organizing the grant writing process, preparing letters of interest and concept papers, techniques to create competitive grant proposals, preparing the essential elements of a grant application infusing best practices and 21st-century research, and data sources and tips for writing fundable grants.
For fees or more information, visit http://cell.uvi.edu or call 693-1100.
Virgin Islands Veterans can qualify for free tuition for this and other UVI CELL courses through the Office of Veterans Affairs.
Veterans who wish to apply can send an email to cell@uvi.edu.