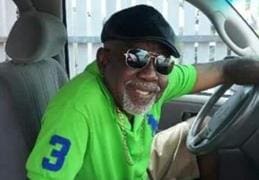 Rolston Carr died on April 17, 2021.
He was born on the beautiful island of Antigua in Ottos New Town on May 28, 1947. Rolston was the son of the late William Carr and Edith Solomon. Rolston was a very skilled and well-known mechanic on the island of St. Thomas.
He was preceded in death by his mother, Edith "Jane" Solomon; father, William Carr; brothers: James "Rometo" Carr, Conrad "Connie" Carr and Everette Carr; and sister, Donna Mae Carr.
He is survived by his children: Jocelyn, Verlyn, Marilyn, Duane and Ley'tisha Carr; stepdaughter, Lisa Plasket-Samuel; grandchildren: Jamir Carr, Acheem Hodge, Chelsie Samuel, J'naria Major, Mya Carr, Sheniah Carr, Denesha Carr, D'Shaune Carr, Te'Asia Haarmann and Zhade Carr; son-in-law, Selden Samuel; and siblings: Patrick "Herbi" Carr, Shirley "Yogi" Carr, Noel Carr, Cynthia Rose, Glenda Mills, Jocelyn Lightfoot, Janet Heather Henry, Gweneth Carr and Bernard "Swataniah" Carr.
He is also survived by nieces and nephews, Heather and Valerie Gonsalves-Barreiro, Janet Rose, Michelle and Natasha Lightfoot, Shimica, Nicole, Jaquan, Tony, Carol, Mitch, Vernon, Cecelia, Schevaugn and Renee Carr, and Gavin and Braeden Henry; ex-wives: Jennifer Carr and Dawn Williams Carr; special family friends: Joseph Edwards, Roy Sheridan, John (Kimba) Rabsatt, Nerissa Michael, Juliana Williams, Petula Maynard and Bernadette Maynard Melendez.
The viewing will be held at Turnbull's Funeral Home at 9 a.m., Friday, April 30, with the service following immediately at 10 a.m.