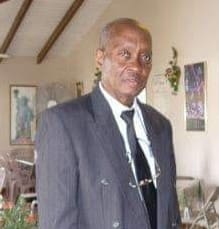 Thomas Delano Williams Sr., also known as "Tom," of La Grande Princesse died on March 14. He was 79 years old.
He is survived by his wife, Muriel I. Williams; children: Lurline A. Armstrong, Rodelique Williams-Bradshaw and Thomas D. Williams Jr.; stepchildren: Trevor, Maureen, Anthony, Joseph and Robert Wheeler, and Marilyn Henry; grandchildren: Latoya Williams, Anthony and Laurie Armstrong, Jevon, Parisa, and Layla Bradshaw; and step-grandchildren: Wendy and Henderson Wheeler, Irving and Kevin Henry.
He is also survived by great-grandchild, Dominique Williams; sons-in-law: Austin Armstrong and Everton Bradshaw; daughter-in-aw, Ginette Williams; brother, Lauren I. Williams Sr.; sister-in-law, Esther Williams; nieces: Olive Schneider, Lisa Phillips, Mevilyn Williams, Lynda Roberts, Linda Henneman, Heleen Williams and Anna Petersen; and nephews: Lauren I. Williams Jr. and Lee Roy Williams, Nimrod Henneman, Inslee and Mario Carroll, Kevin, Julian Jr., Michael, Manuel, and Melvin Williams, Jr.
Other survivors include special family and friends: Selwyn Powell and family, Ophelia Torres and family, Ellen and Viloria Artaway, Karen Quinn, Anniqua Jacobs, Aumari Jacobs and Nathaniel Joseph; and surviving families to include: the Williams, Carroll, Powell, De Costa, Boyce, Maynard and Marshall families; as well as other relatives and friends too numerous to mention.
Funeral service will be held on Wednesday, April 6, at City of Refuge Worship Center with tributes at 9 a.m. followed by a service at 10 a.m. Interment will be at Kingshill Cemetery.