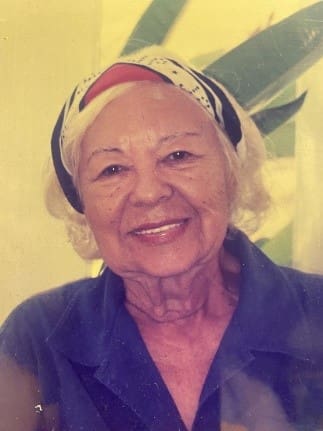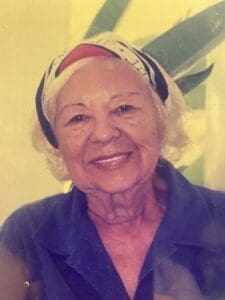 Jennie Augusta Christensen Lawaetz of Estate St. John passed away shortly after midnight on March 18.  She was 102 years old!
Much beloved by everyone, she was an example of someone who lived a good life, without pretension. Her sweet and agreeable disposition aided her husband, Erik Lawaetz, who predeceased her, to achieve great heights in business and literature, much credited to her inspiring nature.
The couple for many years had the Hotel St. Croix by the Sea, which was a central point for dance, fun and excitement. People still talk about the wonderful days that they spent at St. C. Her husband said of Jennie that "he could not have lived with any other woman in the world for more than a week." Jennie Augusta Christensen Lawaetz will be dearly missed, and always loved. May she rest in peace.
Jennie Augusta Christensen Lawaetz was preceded in death by her parents; Loretta Moller and Frederick Jogen Christensen; stepmother, Frances Christensen "Miss Bee"; half-brothers: Carl, Stanley and Arthur; half-sister, Joan Burgess; husband, Erik Johannes Lawaetz; brothers-in-law: Frits and Kai Lawaetz; her niece, Diane; her nephews: Fritsi and Rory Lawaetz, Sine: sisters-in-law; Bodil and Irene Lawaetz; parents-in-law: Carl and Marie Lawaetz.
She is survived by her two sons: David and Roy; daughter, Mona; daughter-in-law, Marianne; former daughter-in-law, Uta; grandchildren: Julian Pardo de Zela, granddaughter-in-law, Natalie, Verena and Anitanja Lawaetz and Erik Doane; great- grandchildren; Paxton, Cruz, Raya and Luca Pardo de Zela and Jai Jalan Lawaetz Louis Fernand; and nieces: Michelle Moore, Gem Burgess, Annette Christensen, Birthe, Meretta, Cheryl Christensen, Anne Christensen, Napolitano, Suzy Kaufman.
She is also survived by nephews: Fred Christensen, Edgar Christensen, Hans Lawaetz, Bent Lawaetz, Adin Kauffman, Ove Jual and Alistair King; nieces and nephews once removed: Amy, Jody, Aldo, Keomi, Carlo, Joyia, Jens, Alice, Simone, Carly, Frans, Rina, Anne Kristine and Olivia, Christian, Thomas, Torkyl and Martin; and many more loving relatives.
Other survivors are longtime family friends, including but not limited to: the Skovs, Mackays, Rasmussens, Steinmanns, Bredemeiers, Pardo de Zelas, Schreibers, Thompsons, Venturas, Schjangs, Orloves, Seamens, Merwins, Skeochs, Magras, Merrills, Dehers, Welagers, Bonkanphors, Bujuns, Flemings, Evans, Cragos, Canadays, Castensjolds, Millers, Jorgensens, Isbits, Millars, Valls, Henles, Anduzes, Daughtertys, Jensens, Byrons, Vaglios, Richards, Walsh, Lefresnes, Caters, Pedersens, Petersens, Gaffneys, Bachjensens, Scubaus, Dixons, Mestiers, Hillmans, Capronis, Schumans, Schuberts, Bollings, Lebrons, Odlums, Wilsons, Gallos, Macaffarys, Thorpes, Maeirs, Isherwoods, Youngs and many more.
A Memorial Service will be held at 3 p.m., Saturday April 23, on the grounds of the Lawaetz Museum at Estate Little la Grange.  In lieu of flowers, a donation to Lutheran Social Services is preferred. Mailing Address: 516B Hospital St., Frederiksted, St. Croix 00840-3824.