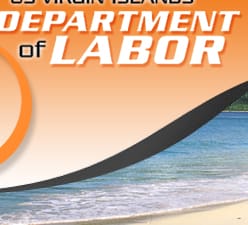 Applications are now available for all college seniors, graduate students and recent graduates for the Spring 2023 Labor Investing for Tomorrow (LIFT) program. The LIFT expansion for the fall 2022 and spring 2023 semesters results from Gov. Bryan's $500,000 commitment to expand the LIFT Program year-round.
The V.I. Department of Labor's LIFT Summer Internship Program was established in 1989. Serving as one of the territory's most prominent work experience/internship programs, LIFT is a component of the Summer Youth Work Experience Program (SYWEP) that provides college juniors and seniors with eight weeks of work experience. The interns are exposed to the workforce in the Virgin Islands, motivating them to stay or return home.
Heading into its 34th year, LIFT is set to expand the work experience from only summer to throughout the calendar year. While obtaining hands-on experiences in their fields of interest, interns will participate in various activities, including workshops, radio appearances, competitions and an in-person meet and greet with former LIFT interns.
Fall 2023 LIFT intern Kiandra Christopher said, "LIFT has continued to provide many individuals with insights into various work fields. It encourages one to go after their goals, or even discover themselves and who they aspire to be throughout the process."
Labor is now accepting online applications for spring 2023 placements. Eligibility criteria are as follows:
Interns must presently be a college senior, a recent graduate or a graduate student; must have a minimum GPA of 2.80 on a 4.00 scale; have 90 credits or more; and must be between the ages of 18 – 25. Interested students must complete the LIFT application available online at www.vidol.gov/youth. In addition, applicants must submit an official transcript and an essay.
If there are any questions regarding this information, email lift@dol.vi.gov or contact the Youth and Apprenticeship Division on St. Thomas at 776-3700 ext. 2080 or on St. Croix at 773-1994 ext. 2140.