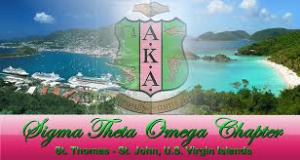 On Feb. 3, Sigma Theta Omega and Rho Omicron Chapters of Alpha Kappa Alpha Sorority Incorporated on St. Thomas/St. John will celebrate National Wear Red Day.
The official colors of Alpha Kappa Alpha Sorority Inc. are salmon pink and apple green.
However, on this special day, Friday, Feb. 3, the sororities will take off the pink and go red to raise awareness of cardiovascular diseases and promote life changes that will increase the quality and longevity of the lives of women around the world.
The more a woman knows about heart disease, the better chance she has of beating it.
Heart disease is the No. 1 killer of women, causing 1 in 3 deaths each year. Women of color have a 50 percent greater risk of developing cardiovascular diseases than other groups! Hence, our focus has been to bring awareness and share information on the importance of maintaining a healthy heart as it pertains to cardiovascular diseases, hypertension, and high cholesterol.
Sigma Theta Omega and Rho Omicron Chapters are inviting everyone, especially their fellow Greek Letter Organizations, to join them by wearing on Feb. 3. Members of the sorority will share informational posts on social media to family, friends and the entire community.
"We encourage everyone, especially the women in our community, to learn the truth about heart disease. Losing one woman to heart disease is one too many," said Deyzha Todman, president of Sigma Theta Omega Chapter.