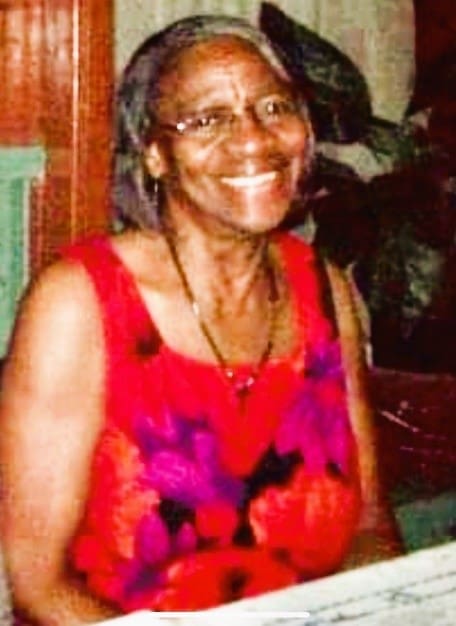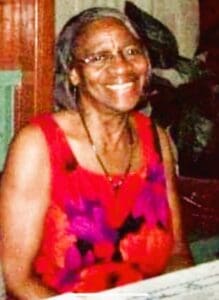 Mary D. Henderson died on March 25. She was 81 years old.
She is survived by her son, Marcellus Flores; grandchildren: Malik, Kira and Elisha Flores; adopted grandchildren: Jahmal and Jahmallia Dee; great-grandchildren: Myiah S., Ma'Siah S. and Ma'Kai Flores; brothers: L. Agustin Henderson Sr., Elroy Henderson and Kenneth Henderson Sr.;
nieces: Prudence Morris-Dance, Michelle Morris-Martin, Vuriley Harris, Corinne Harris, Kimarie Engerman, Patricia Lynch, Sabrina H. Salmon, Natasha H. Petersen, Sonji H. Samuel, Sanya J. Henderson, Kemya Henderson, Sharima Henderson, Chyla Ritter, Kenisha Henderson, Kenika DeGazon, Timeshia Meyers, Dynell R. Williams, Sherrie Galloway, Sherrica Galloway and Lysha Galloway;
nephews: DeRay Hodge, The Honorable Emile A. Henderson III, Leander A. Henderson Jr., Anthony V. Henderson Jr., Brian Henderson Sr., Kenneth Henderson Jr., LeJuan Henderson, Deshawn Henderson and Raymond Galloway;
great nieces: Jewel Walker, J'Nee Armstrong, Marsha Chery, Natalie Martin, Toni Messer, Caira Isaac, Allarie Monsanto, Jazarie James, LaTanya Cobb, LaToi Evans, Shakira Brown, Sabrina-Shaquayne Trimew, Cirina Salmon, Ashley Petersen, Imani Samuel, Kameelah Selmon, Jenaya Selmon, Nasirah Henderson, A'Chyla Ritter, U-Niesha James, K'Saiah Smith, K'Myiah Chaparro, K'Shailah Smith, Destinee DeGazon, Le'Nique DeGazon, Kaeden DeGazon, Amiyah Henderson, JeNai Henderson, Samaiyah Harris, Jordyn Galloway-Anderson, Jenesis Gallloway-Anderson, Jahzara Galloway, D'Andra Arthurton, Olivia Henderson and Coraline Henderson;
great nephews: Ronald Carter Jr., A. Glenmore Martin Jr., Deray Smithen, Shakeem Trotman, Bryant Curry, Byron Curry, Noshua McNeil, Allan Petersen Jr., Delani Samuel, Jalen Chinnery, Marshaun Galloway, Kyle Galloway, Brandon Henderson, Jared Henderson, Brian Henderson Jr., Caidyn Henderson, Jah'sani Francis, A'Jani Francis, Isaiah Henderson, Dennis Graham III, Michael Alfred Jr. and Valdemire Henderson;
21 great-great nieces; 26 great-great nephews; 2 great-great- great nieces; two great- great-great nephews; brothers-in-law: James Peake, Lionel Barnes Jr. and Raymond Galloway Sr.; sisters-in-law: Marlene P. Henderson, Dianne R. Henderson and Karen Henderson; godsisters: Arlene Abraham, Louise Samuel and Amelia Joseph; godchildren: Vuriley Harris, Stacie Hodge and Marsha Sealey;
special cousins and relatives:the family of the late Gelza James, Julio Petersen, Lloyd O'Byran, McBean family, O'Bryan family, James family, Davila family, Petersen family, Cheryl Daniels, Patricia "Pat" Williams, Sharon Hodge, Radiant Morris, Nikesha Morris The Honorable Ernest E. Morris Jr., and Francis family (St. Thomas); and
special friends: Elsa Springer-Clay, Inez Walker, Merley Fredericks, Mildred Senthill, Patricia Christian, Monica Andrew, Rupert and Edna Abramson, Gwendolyn Lucas, Melissa Brown, Joyce Fontenelle, Alvin Milligan, Hazel, St. Patrick's Choir, St. Patrick's Prayer Group and Wendy Jones; other relatives and friends too numerous to mention.
Special thanks to Michelle Martin, A. Glenmore Martin Jr., Deray Smithen, Continuum Care, Nurse Tatianna Saldana, Arlene Abraham, Louise Samuel, Amelia Joseph and Elsa Springer-Clay.
The viewing will begin at 9:30 a.m. followed by a funeral service at 10:30 a.m., Friday, April 14, at St. Patrick Catholic Church. Interment will be at Frederiksted Cemetery.
Professional services are entrusted to James Memorial Funeral Home Inc.