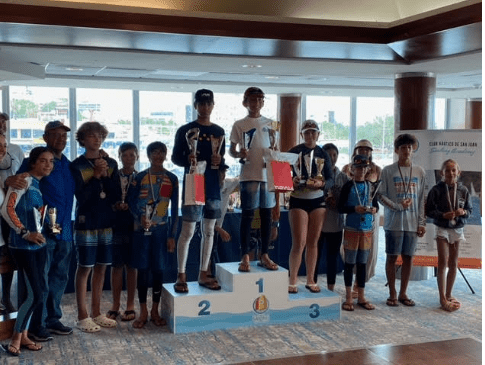 A group of St. Thomas youth opti sailors ranked highly when competing in the Pan Pepin Sailing Regatta. The event took place on May 20 and 21 in San Juan, Puerto Rico. Six sailors from St. Thomas traveled to compete, five of them being part of the championship fleet.
"I would definitely say that it is different conditions than sailing in St. Thomas, it's a lot flatter which makes it hard for me to sail and it's a lot lighter, which makes it more difficult for me as well," Audrey Zimmerman said.
Led by Coach Agustin Resano, the sailors competed in the optimist advanced division, and all five of them placed. Audrey Zimmerman scored third overall and was ranked top female. Coby Fagan was ranked fifth overall, Howard Zimmerman won sixth overall, Finn Hodgins scored eighth overall, and Avery Pearsal ranked 12th. In all divisions combined, there were 17 competitors.
Additionally, Howard Zimmerman ranked second place overall in Blue Fleet, and Finn Hodgins was the highest-ranking sailor in the White Fleet, and Audrey Zimmerman ranked second overall in the Red Fleet.
When asked how she felt about receiving top female, Audrey said, "Getting top female is the second first-place award I've won when opti sailing and I'm really glad to have it. It's a great award, but I still hold myself to higher expectations and hope to win it at a bigger regatta next time."
Kip Hodgens was a sixth, younger sailor who also traveled with the team but competed in the Opti Super Green Fleet and scored fourth overall in that division.