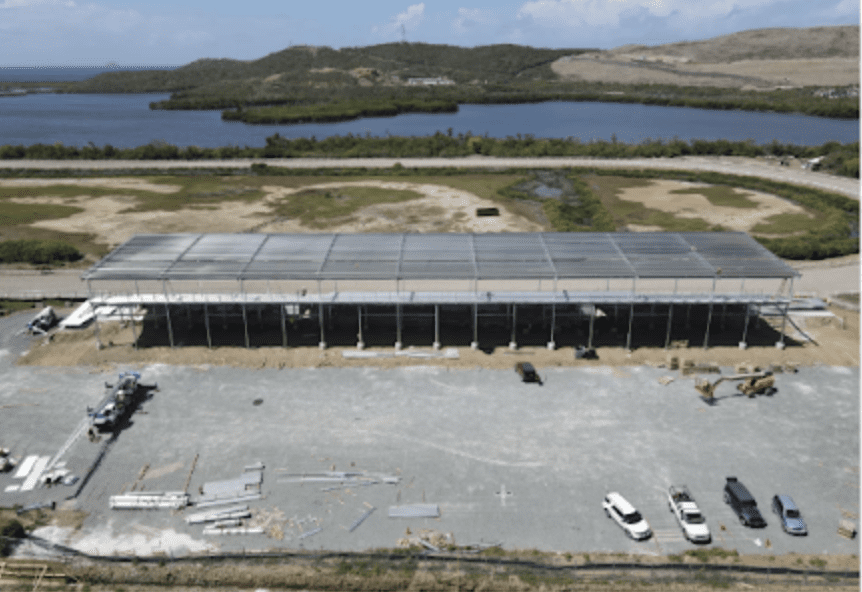 Members of the V.I. Horse Racing Commission got progress reports on the reconstruction of the territory's two racetracks at a meeting held Thursday. Both the Clinton E. Phipps Racetrack on St. Thomas and the Randall "Doc" James Racetrack on St. Croix are slated for recovery from damages suffered during the 2017 Atlantic Hurricane Season.
Portions of the work at Clinton-Phipps are making major strides, Southland Gaming Development Representative said during Thursday's virtual meeting. Construction of a racetrack grandstand, complete with accessibility for the disabled, is 85 percent completed, along with work on the main cistern, retaining walls, the main sidewalk and a concrete slab.
"We are moving forward," Edmonds said. A groundbreaking ceremony for the St. Thomas racetrack redevelopment took place April 23; by then, developers had won approval for Coastal Zone Management permits and had construction crews on site.
But progress is still in the offing on St. Croix, where representatives of VIGL Horse Racing told commission members they are still waiting for construction permit approval.  Commission Chairman Hugo Hodge Jr. shared a report he received from VIGL Representative Jason Williams.
In his message, Williams described a May 18 meeting with officials from Planning and Natural Resources, Coastal Zone Management and the Flamboyant Park Horsemen Association. Detailed plans for Doc James Racetrack redevelopment were presented at the meeting, Williams said, but since then, there has been no indication from CZM as to how soon a decision will be made on granting the permits.
Edmonds also briefed the commission about a pending phase of development for the St. Thomas track. This phase, he said, will impact the barns and areas where horses are kept, managed, and trained. As workers move towards renovating the barns, the cisterns used for stable operations, and the quarantine area, Edmonds said it will be done in a way that allows access of the facility to horse owners.
"It is our intent to maintain our access and operations agreement with 20 stalls open," he said.
The topic became more relevant as Hodge introduced a letter he received from members of the Nadir Horseowners Association. Association members asked for permission to stage a racing event in early July.
" … We proposed to have some "exhibition races" among the horses presently stabled at the track along with entertainment, food and drinks … " the letter said. Hodge and Sports, Parks, and Recreation Commissioner Calvert White said they had no objection to the request.
But, the chairman said the association would have to direct their request to the proper government authority. White said he would be willing to accept the letter and channel it toward decision-makers.
"It would not be an official race, nothing that has to be approved by the commission," Hodge said. One day after the meeting, the chairman repeated that it would not be up to the horse racing commission to grant permission for an unsanctioned race in July.
The developer's representative said ideally, project managers would rather be able to continue their work unimpeded, but also acknowledged the access agreement signed by Southland.
Before the public portion of the commission meeting wrapped up, there was also a discussion about reaching out to horse owners in advance of renovated tracks reopening. So much time has passed since races have been held at either racetrack that virtually no horse owner still holds valid certification, said commission member Dodson James.