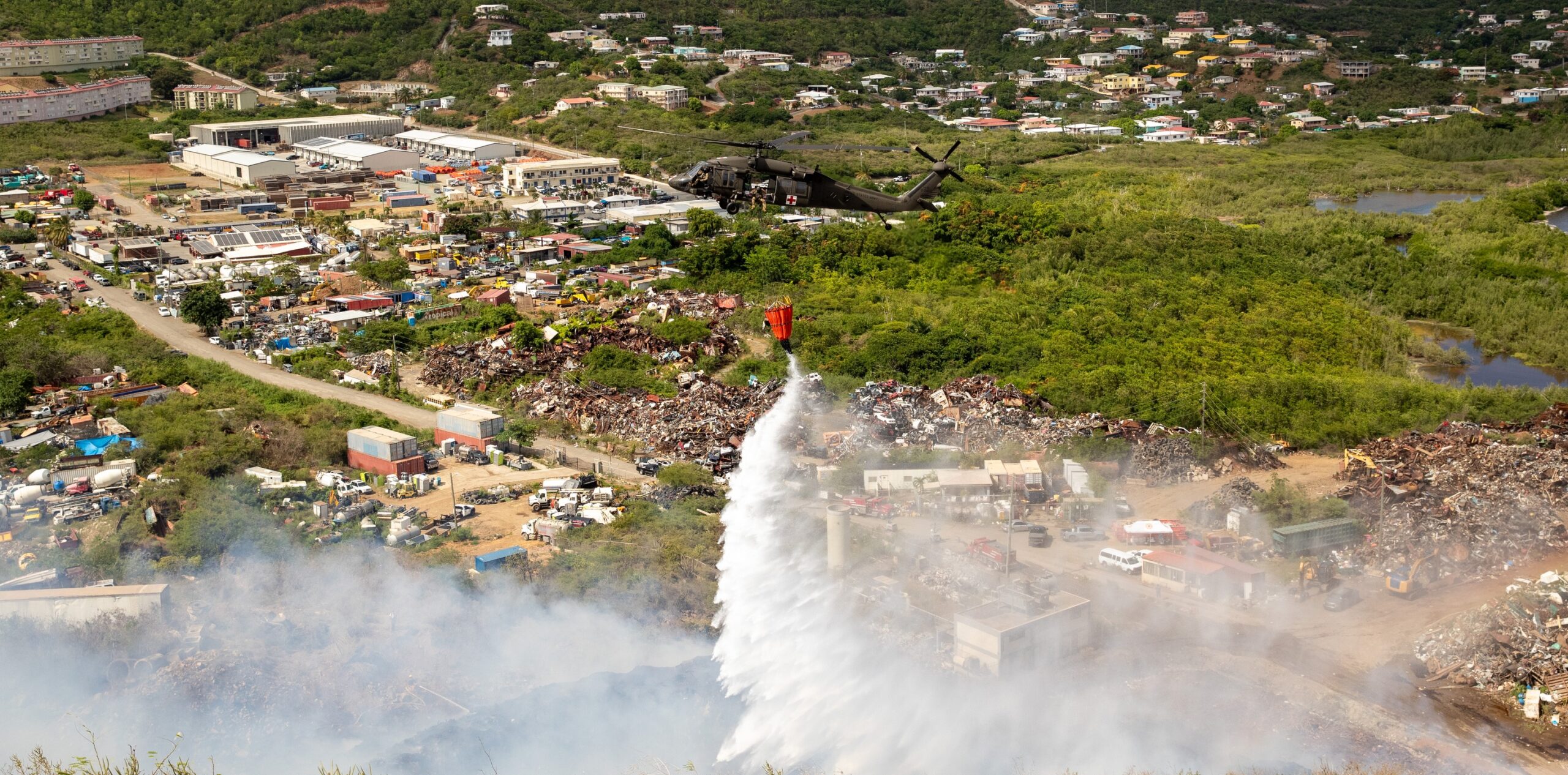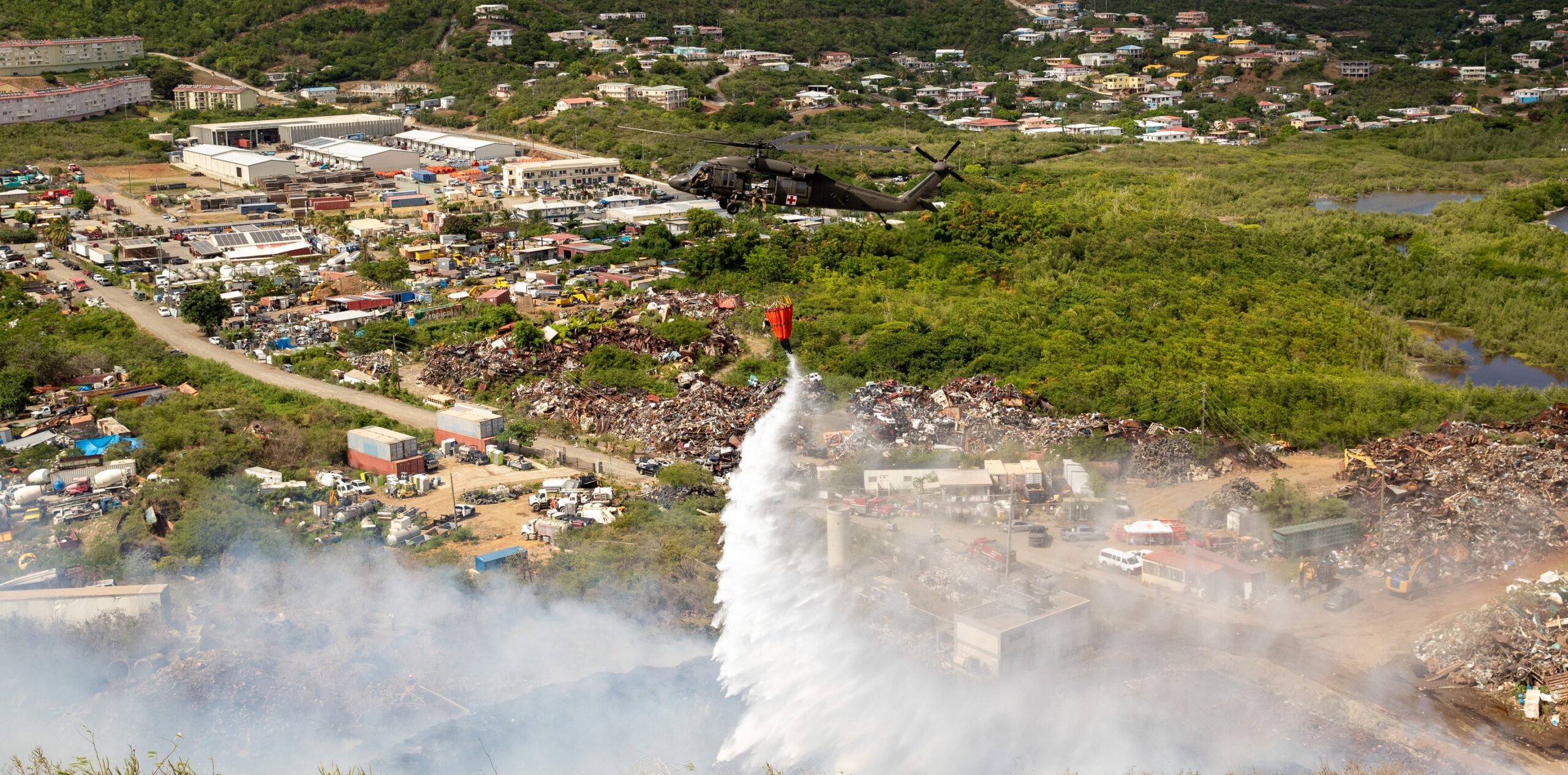 Efforts to contain the Bovoni landfill fire on St. Thomas continued Thursday, and likely will for at least the next few days, as crews on the ground and in the air fight the blaze that erupted a week ago.
At a multi-agency press briefing Thursday afternoon, V.I. Territorial Emergency Management Agency Director Daryl Jaschen said a helicopter operated by members of Puerto Rico's National Guard and outfitted with a 660-gallon "Bambi bucket" to collect seawater made 40 passes over the landfill on Wednesday. The effort continued Thursday, and as of early afternoon about 45,000 gallons of water had been dropped on the fire, said V.I. National Guard Adjutant Gen. Kodjo Knox-Limbacker. Additionally, about 6,000 gallons of water has moved by truck, he said.
The fire broke out Sept. 14 in the green waste section of the landfill that contains about 55,000 cubic yards of plant debris from 2017's Hurricane Irma and was the result of spontaneous combustion, said V.I. Fire and Emergency Medical Services Assistant Director Antonio Stevens.
The Puerto Rico National Guard was enlisted to help with the effort after Gov. Albert Bryan Jr. declared the fire a State of Emergency on Monday, triggering more assistance from both local and regional sources. Because it is strictly a territorial emergency, the V.I. government will bear 100 percent of the cost of the operation, said Jaschen.
St. Thomas firefighters are battling the blaze 20 hours a day along with crews from St. Croix and St. John, who have volunteered their services, Jaschen said. A unified command was established on Monday, led by Fire EMS Director Daryl George and including the Waste Management Authority, the Health, Education, Public Works, Police, and Planning and Natural Resources departments, the Government Office Joint Information Center, the Office of Legal Counsel, the V.I. National Guard, and VITEMA, he said. Currently they are meeting at 7 a.m. and 4 p.m. daily.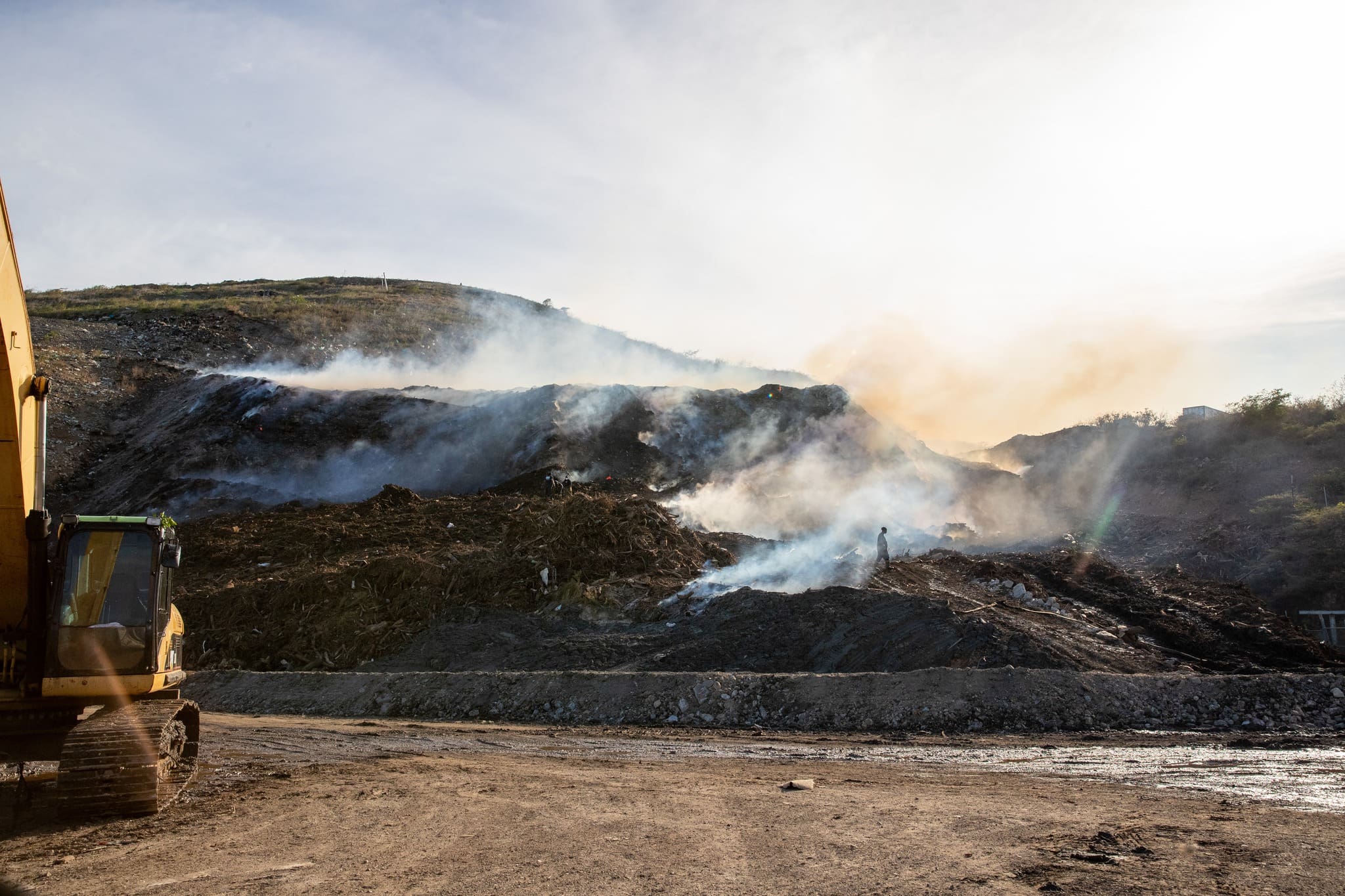 Beyond the fire itself, a major concern is heavy smoke that is impacting nearby residents and businesses and on Thursday, the V.I. National Guard began air quality monitoring at Antilles School and Bertha C. Boschulte School — both closed this week due to the smoke — and the Bovoni and Thomasville communities and will do so anywhere else that George deems necessary, said Knox-Limbacker. He is expecting results from that monitoring on Friday.
Additionally, DPNR is coordinating with the Fire Service to address any runoff from the firefighting operation that could pollute area waterways, he said.
Deputy Health Commissioner Renan Steele recommended that the young, the elderly and those with respiratory issues remain inside with doors and windows closed when possible and use air purifiers if they are available. Additionally, people should stay away from nearby water bodies that might be affected by runoff. There might also be odors or irritants in the air "and while these are generally not harmful, residents may experience temporary discomfort," Steele added.
Residents are urged to also remember their pets, to bring them indoors if possible, and to ensure they have clean water and food, he said.
As for garbage that is accumulating at bin sites on St. Thomas and St. John while the landfill remains closed, Jaschen said the command team is working on a plan to allow limited drop-offs of waste.
"Our goal is to be able to open up in the morning for a couple of hours for the government haulers to come in and put those bins in to reduce the waste on St. Thomas and St. John. The concern today was we wanted to get the air operations going early," but the matter was slated for discussion at Thursday afternoon's meeting, said Jaschen. "We understand the concern to reduce that waste," he said.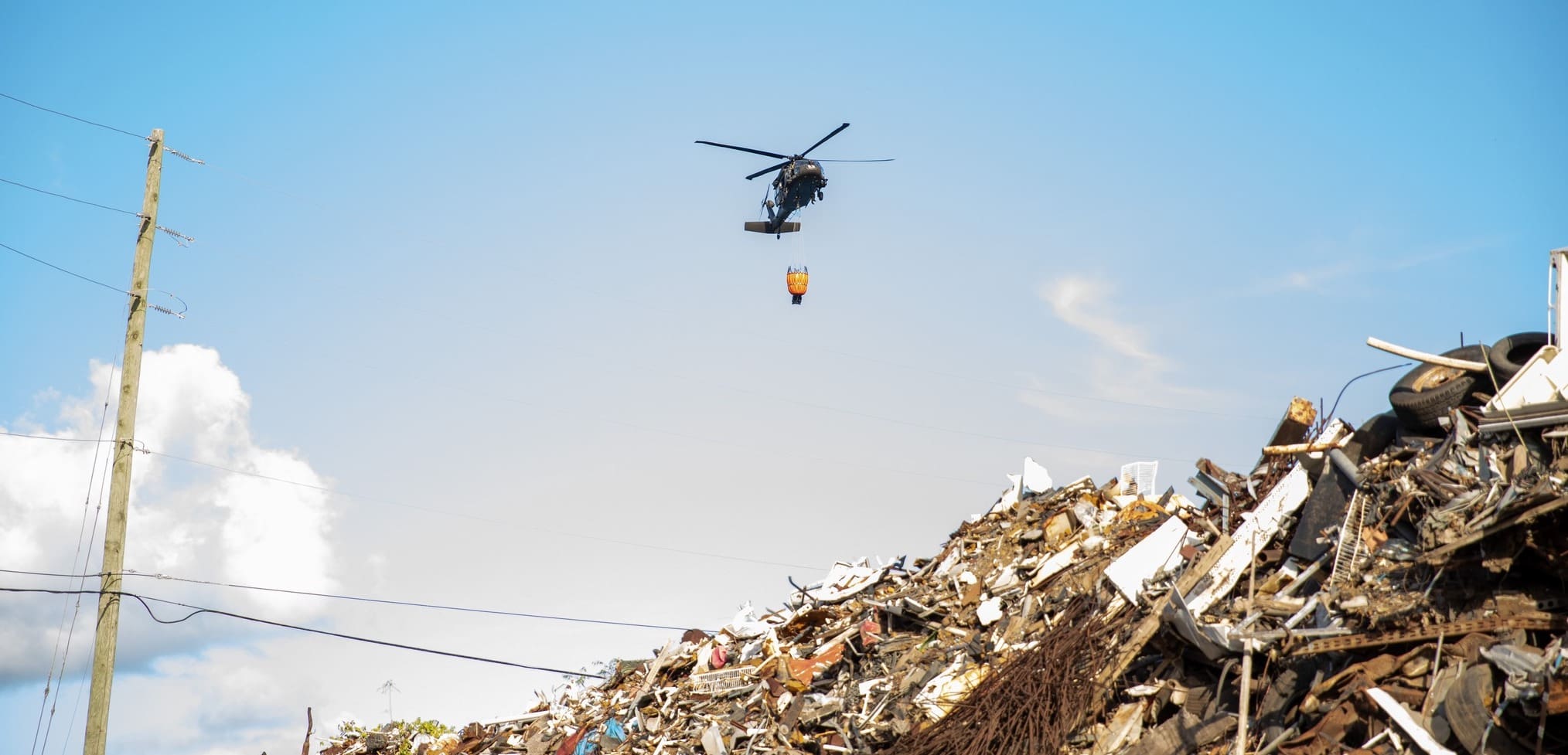 As for when the fire might be contained, Stevens said "I don't want to put a timeline on it but talking to the crews that are on the ground, to include the heavy machinery operators, we are looking within the next 72 hours we should have it under control. It could be before, but I don't want to underestimate it."
And while St. Thomas has been getting isolated showers, the National Weather Service in San Juan, Puerto Rico, is forecasting that the next tropical wave that could produce enough heavy rain to help douse the blaze isn't due to arrive until Sept. 27 or 28, said Jaschen.
Stevens hailed the inter-agency effort as key to extinguishing the fire, saying the "partnership underscores the crucial role of regional collaborations in disaster response. The Bambi bucket deployment by the Puerto Rico National Guard has been a pivotal role in our ongoing efforts. This specialized equipment has allowed us to execute precise, controlled water drops."
He thanked the community for its patience and urged those who want to help to volunteer with local relief organizations, donate supplies, and assist their neighbors in need.
"Our community continues demonstrating remarkable resilience and unity" through adversity, said Stevens, who also thanked those who are actively fighting the fire.