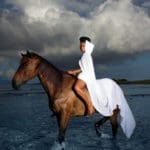 On Friday. July 7, K-VICTORIA will release seven songs at the Lucky #7 Musical Event on St. Thomas, accompanied by DJ Simba.
The fun, family-friendly event will feature a dozen popular island musicians playing original compositions.
The Community Foundation of the Virgin Islands (CFVI) and United Jazz Foundation (UJF) will present the Jaci and Jerry Silverberg Trumpet Awards to Keshawn Hardy and Daniel Newton at 7:30 p.m., June 2.
The Forum Film Festival is bringing three award-winning films to St. Thomas including "The Salesman," which won this year's Oscar for Best Foreign Film.
The U.S. Virgin Islands can look forward to the magic of the acclaimed Copenhagen Royal Chapel Choir under the patronage of His Royal Highness Prince Henrik of Denmark.
The Coral Bay Carole Sing and Santa event --- a tradition for several decades – was held Thursday night, Dec. 22, at the old basketball court in Coral Bay. Well over 100 people attended.
"The Stuart Hall Project" is John Akomfrah's documentary and visual poem about the work of Jamaican-born cultural theorist Stuart Hall, whose engagement with issues of hybridity and the complexity of identity profoundly shaped British cultural studies in the 20th and 21st centuries.
Dion Parson and the United Jazz Foundation have announced that six students from the U.S. Virgin Islands Youth Ensemble are scheduled to perform at the Kennedy Center National Jazz Master's Award Gala reception Friday, Oct. 7.
Readers who enjoyed the bestselling book, "Lord Put a Ring on It," are in for a treat because a movie version of the book is coming to the big screen. Directed by Dr. Tikki Collins, the movie is a romantic Christian comedy about navigating relationships.
The following movies are now playing at Market Square Theater on St. Thomas.