The Virgin Islands Workforce Development System Partners will present the second in its series of forums. This one is entitled "Raising the Bar: A Dialogue to Promote Excellence in Customer Service."
The Caribbean Hotel and Tourism Association Education Foundation (CHTAEF) has announced that its application deadline for its scholarship program is Thursday, March 30.
The decision meeting that was held by the Virgin Islands Economic Development Commission (VIEDC) on Thursday, March 9, will be continued at 9 a.m., Tuesday, March 14.
Over the last three months, Choice-Wireless LTE customers were advised of the company's efforts to convert all customers to Innovative's advanced network. Within two weeks, the migration will be completed
V.I. Next Generation Network Inc. (viNGN) encourages everyone to #LearnSomethingNew every day and has published a free e-book and guide to getting a business online.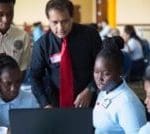 Scotiabank International has invested $2,000,000 in Junior Achievement's (JA) project Road to Success, which is one of the largest organizations in the world devoted to preparing youth to be successful in today's global economy.
Nine students have completed the second Business Design Grants Program (BDGP) at UVI, which is the first step on the road to victory in the annual 13D Entrepreneurship competition. They will now compete for $60,000 in cash to launch their viable business proposals.
The Rotary Clubs of St. Thomas and St. John will host the next St. Thomas-St. John Chamber of Commerce Business After Hours to be held Thursday, Feb. 23.
Sea Star Holdings Inc., the parent company of Seaborne Airlines located in Puerto Rico, has announced the appointment of Ben Munson as its acting CEO and other appointments.
Innovative customers throughout the territory are being affected by a failure with Centurylink's backhaul carrier due to a high level, transport outage on the continental U.S. that began on Monday, Jan. 30.