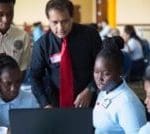 Scotiabank International has invested $2,000,000 in Junior Achievement's (JA) project Road to Success, which is one of the largest organizations in the world devoted to preparing youth to be successful in today's global economy.
Nine students have completed the second Business Design Grants Program (BDGP) at UVI, which is the first step on the road to victory in the annual 13D Entrepreneurship competition. They will now compete for $60,000 in cash to launch their viable business proposals.
The Rotary Clubs of St. Thomas and St. John will host the next St. Thomas-St. John Chamber of Commerce Business After Hours to be held Thursday, Feb. 23.
Sea Star Holdings Inc., the parent company of Seaborne Airlines located in Puerto Rico, has announced the appointment of Ben Munson as its acting CEO and other appointments.
Innovative customers throughout the territory are being affected by a failure with Centurylink's backhaul carrier due to a high level, transport outage on the continental U.S. that began on Monday, Jan. 30.
Virginia-based information technology firm OmniSystems Inc. has partnered with national technology vendors DELL and MicroPact to host their third USVI Information Technology Expo on Feb. 7 and Feb. 8 at Marriott's Frenchman's Reef Beach Resort on St. Thomas
Innovative Cable TV recently received notice that the CLOO Network will permanently discontinue delivery of its programming effective Feb. 1. CLOO, which airs on Channel 315.
Innovative advises the public that it is planning to temporarily suspend cash collections at each of its Innovative Business Offices due to remodeling efforts at the locations. The last day for cash collections on site will be Friday, Jan. 27.
Ranger America of the Virgin Islands will host the next St. Thomas-St. John Chamber of Commerce Business After Hours from 5:30-7:30 p.m., Thursday, Jan. 26.
The U.S. Small Business Administration (SBA) is inviting funding proposals from non-profit organizations; state, local and tribal government agencies; and institutions of higher learning to provide "Boots to Business" entrepreneurship training to service members, military spouses and veterans.