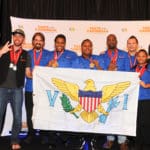 Delicious culinary creations and ingenuity earned the USVI Culinary Team silver overall at the competition, held June 2-6. Team members also brought home medals in several individual categories.
The Herman E. Moore Golf Course at the University of the Virgin Islands will be abuzz with food, fun and fellowship on March 19, as the community gathers for the 28th annual Afternoon on the Green
Food Network's "The Kitchen" will show viewers how to beat the cold this weekend with some tropical cooking, including a Caribbean coconut shrimp with mango sauce recipe whipped up by local chef and champion boxer Julius Jackson.
To celebrate the 15th anniversary of the prestigious St. Croix Food and Wine Experience, organizers have enhanced events and found a "restaurant fairy" to ease the financial burden of participating restaurants.