Gov. Kenneth Mapp captured attention Thursday with promises to build a four star hotel, a mid-island sports complex and racetrack, a Frederiksted stadium, to repair roads and more.
Gov. Kenneth Mapp on Thursday nominated former V.I. Sen. Usie R. Richards to serve as a member of the Virgin Islands Casino Control Commission, Government House announced.
The St. Croix Elections Board shuffled voters to more convenient polling sites, they said, and continued to move closer to defunding primary elections during their regular meeting Wednesday.
The Virgin Islands Department of Education's State Office of Special Education (SOSE) informs the public that copies of the Division's FFY 2016 IDEA Part B Federal Grant Application are now available for public review in both school districts over the next 60 days.
The Senate Rules and Judiciary Committee OK'd a proposed increase in the V.I. cigarette tax along with measures to allow smoking in 'cigar factories' and require job discrimination complaints be filed within 180 days of when discrimination is discovered.
Raymond Williams and David Hughes got the nod for a spot on the V.I. Public Services Commission Tuesday during a hearing of the Senate Rules and Judiciary Committee.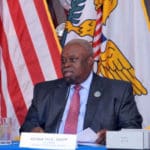 Gov. Kenneth Mapp delivered a bill to the Legislature Friday to fund the professional services and reports related to development and financing of a hotel project on St. Croix.
On Friday, for just the second time in it's 20-year existence, the V.I. Casino Control Commission approved a license to operate a casino on St. Croix, extending a one-year certificate to operate slot machines in the Hotel Caravelle in Christiansted.
p>The Senate is considering a bill, sponsored by Sen. Justin Harrigan, that would make it illegal to operate a jet ski or sailboard close to shore and increase the fines DPNR is able to impose up to $1,000.
A bill directing the West Indian Company to buy property next to Government House on St. Thomas for the governor's residence and take the cost out of WICO's back taxes has become law without Gov. Kenneth Mapp's signature.