Gerald Mercer, 42, Jamal Haynes, 39, Makimba Barry, 39, and Craig Richardson, 39, were indicted by a federal grand jury Thursday and charged with conspiracy to possess with intent to distribute cocaine.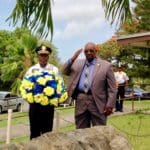 Delroy Richards said he was closely connected with six of the seven officers whose graves were visited in the morning as part of National Police Week observance.
A prisoner at the Golden Grove Adult Correctional Facility was found unresponsive in his cell and is being considered a possible suicide.
The U.S. Virgin Islands commissioned 17 federal law enforcement officers as Virgin Islands Peace Officers after the officers completed an orientation on Virgin Islands history and culture.
The V.I. Police Department on Thursday arrested Malik Cheatham, a 66-year-old Solberg man suspected in the burglary of two Cruz Bay restaurants in April.
Nine federal law enforcement officers received commissions as Virgin Islands Peace Officers Monday after attending an orientation on V.I. history and culture at the Police Training Academy on St. Thomas, Attorney General Claude Earl Walker announced.
Celeste P. Bermudez, 41, formerly of St. Croix, pleaded guilty Monday in federal court on St. Thomas to theft of federal program funds and making and subscribing a false income tax return, acting U.S. Attorney Joycelyn Hewlett announced.
Eugene Monsanto Jr. was sentenced to 17-months in prison followed by three years of supervised release after pleading guilty to being a felon in possession of a firearm.
Authorities in the British Virgin Islands executed arrest warrants on behalf of the U.S. Department of Justice and took two men into custody,...
A woman was raped at gunpoint Thursday while walking to her car in the gravel parking lot across the street from the tennis courts...