Organizations — St. John
Sisterhood and Brotherhood Summer Program Teaches Life Skills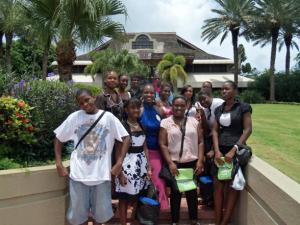 This summer, Sisterhood Agenda, with its Brotherhood Agenda division, implemented the Sisterhood/Brotherhood Career & Life Skills Training Program, made possible through a mini-grant by the V.I. Department of Labor. The organization president, Angela D. Coleman, taught 13 students (ages 14 and 15) from St. Thomas and St. John to gain more insights about education, life skills, work and career opportunities. The program met for four weeks and ended with a program ceremony and field trip to the Westin on St. John.
"We are very excited this year to have so many quality providers like Sisterhood Agenda serving both girls and boys through our mini-grant program. Together, they are serving over 200 kids in the territory," says Fernando Webster Jr., program coordinator with the V.I. Department of Labor.
Program participants were visited by guest speakers and daily activities including reading the newspaper, ways to increase wealth and affluence, public presentation and debate, budgeting, college preparation, leadership development, etiquette, mentoring, applying and interviewing for jobs. The group also bonded in the spirit of sisterhood and brotherhood.
Program participants took field trips. They visited the East End Medical Center where they received a tour, talked to nurses, administrative staff and Dr. Debra Francis, the Center's Medical Director, about professions in the medical field. In addition, participants visited the University of the Virgin Islands, received information from the admissions office, toured the campus with admissions recruiter Campbell Douglas and had lunch in the cafeteria.
On their final field trip to the Westin, Joseph Paoli, director of Human Resources and Eucil Worrell-Ashton, human resources manager, gave the group a tour of Westin facilities where they were also greeted by staff and educated about different job positions there. Participants were treated to a shared lunch buffet with St. John Rotary, of which Coleman is a member. Paoli said, "We are honored to have the students visit the property and support communities and schools in St. Thomas and St. John. It's a great way to introduce hospitality career opportunities, and we appreciate Ms. Coleman bringing the group to us, giving us the opportunity to participate."
Bruce Munro, St. John Rotary president, said, "We're excited about the possibilities young people have now and how important the educational process is for them." Fifteen year-old program participant ReKisha Codogan said, "I enjoyed all of the program activities, and we had a lot of different experiences. I would like to go back to the East End Medical Center because I want to be a nurse."
"I am absolutely proud of what they accomplished this summer. I look forward to seeing how this group of very smart and committed young people progress on their paths to success," said Coleman.