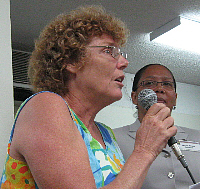 Plans are in the pipeline to develop 150 parking spots at Enighed Pond marine terminal, Public Works Commissioner Darryl Smalls said Tuesday at a meeting held at the Legislature building to get public input on a proposed Transportation Master Plan for the territory.
Smalls said after the meeting that the government is working with the V.I. Port Authority to come up with a parking plan for the area, but implementation will have to wait until funds from the $87 million bond project recently approved by the Legislature are in hand.
"And we're studying Cruz Bay to develop a parking structure, but nothing's definite," Smalls told the 50 people who attended the meeting.
St. John residents have heard about the parking structure before. Under former Gov. Charles Turnbull's administration, plans were well under way to build a combination parking garage and vendors plaza across from the Creek in Cruz Bay, but it fizzled.
In fact, St. John residents have complained for years about St. John's critical parking and traffic issues, a situation that resident Pam Gaffin was quick to mention. She said that St. John has seen several studies done, money wasted and many public meetings on the issue — but no solution to its parking problem.
Gaffin also said she hoped that the barge system crucial to St. John life would be included in the Transportation Master Plan.
"Last week we were down to one barge, and we almost starved to death," Gaffin said, referring to the fact that nearly all food sold on St. John must arrive via barge.
Subsequently, St. John resident Sharon Coldren spoke about St. John's dependence on transportation links like the barge when it comes to things like providing fuel. With only two gas stations — the third one was forced to close to make way for the Cruz Bay roundabout now under construction — a barge snafu could create a fuel shortage.
Coldren also spoke about the terror residents driving Centerline Road face when they meet up with trucks far too large for the island's narrow and twisting roads.
"They honk their way around the curves with no chase trucks," she said.
There were several complaints about the lack of striping on St. John's roads. Smalls said the striping machine has arrived and work will begin shortly.
Other residents spoke about what they'd like to see included in the Transportation Master Plan. They covered the opening of an additional road between Coral Bay and Cruz Bay to use if Centerline Road is closed, making downtown Cruz Bay a pedestrian area and implementing a VITRAN bus system that covers Coral Bay.
Several residents asked Smalls and his team from Public Works and the consulting firm PB Americas to take into account the knowledge St. John residents have about their island's problems.
"We know what we need," St. John resident Myrtle Barry said.
The Transportation Master Plan meetings continue Wednesday at the Curriculum Center in Anna's Retreat, St. Thomas. The St. Croix meeting is planned for Thursday at the Curriculum Center in Kingshill. All will run 6 to 9 p.m., with a presentation by the department scheduled for 6:30 p.m.