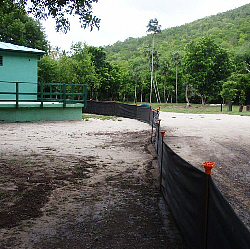 In the next few weeks, Magens Bay will see the completion of a project long in the planning: a new road running to the south of the current road, which will be blocked off for runners, joggers, children, or someone taking an idle stroll.
The new road will eliminate the hazards caused by people parking on the southern end of the beach. As it is now, people park and have to cross the road to the beach through the vehicular traffic.
The road will run to the south of the current roadway, circling at the very western end behind the bathhouse to return, according to Aubrey Nelthropp, Magens Bay Authority board chairman.
Nelthropp said the road will circle past the bathhouse at the west end of the beach around the mahogany tree. "It will be used by runners and joggers, and be blocked off to all but emergency vehicles. It's for the safety of young people and senior citizens, joggers, baby carriages, safe for everyone."
Nelthropp agreed it's been in the planning stages "the last 10 years." The project will cost $200,000, paid for with certificates of deposit for that purpose. Nelthropp said a grant in that amount came from the Turnbull administration in legislation proposed by Sen. Louis P. Hill.
It has taken a long time to get the permits in place, Nelthropp said. "We did this at the slowest time of the year, with fewer cruise ships, and locals. If it's done by the end of July, it will be like performing a miracle."
It may take a couple weeks longer, according to Andy Smith, president of project contractor, said Tuesday morning. "Some problems have arisen which might make four weeks a more reasonable estimate." HTA Caribbean has done the engineering for the project.
And there's more to be done after the road is completed, authority board member Elliott McIver Davis said Tuesday. "Bollards have to be removed and new ones installed on the other side of the present road," he said.
In addition, Davis said, Magens will have a series of exercise stations, "Little squares blocked off, minimal structures to enable folks to do full-body workouts." Davis said a medium-term project is under way to remove trees other than coconut palms that grow in the Coconut Grove in the arboretum.
"The wild mahogany trees are so overgrown," he said, "you can hardly get into it now."
In addition, Davis said, there will be marked-off parking areas, instead of the first-come, first-serve parking which has been the custom for years. "There will be marked-off parking areas enabling us to have most cars parked in given areas for feasible planning," he said.