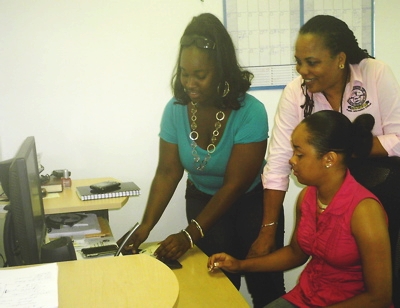 When Shanda Albert is driving, occasionally she'll hear a familiar voice come over the radio — her own.
"I get very excited," she said. "I'm all, 'Hey, that's me!'"
Albert is one of four young people who volunteered to work with the police department on St. Croix last summer and ended up writing and recording a series of four public-service announcements on topics they picked, topics aimed at steering youths clear of trouble with the law. Those PSAs are already a regular staple on several island radio stations.
The idea came from the department's public information officer, Melody Rames. She is probably most known as the person issuing news releases about arrests and crimes and some of the other less-pleasant parts of island life. But her job involves all aspects of the department's contact with the community. She took the young volunteers and set them to work picking the themes for the commercials.
"When Melody first told us we were going to make commercials, we were really excited," said. Shemira Andre, who is a police cadet hoping for a career in law enforcement.
The group quickly came up with four themes and wrote scripts. The four commercials touch on areas that, in their own experience, are things that affect the lives of teens today on St. Croix. They are, guns, drunken driving, gangs and sex.
In the commercial "Mommy Baby, Daddy Maybe," one girl talks about "her man" who is about to turn 30, and how she thinks she's ready to have sex with him. Her friend reminds her she's only 15 and could end up pregnant. When the first girl says she's sure "her man wil take care of his own," the second snorts the title with contempt: "Hmmph. Mommy, baby. Daddy, maybe." The ad ends with the reminder that having sex with someone under the age of 18 is rape.
The other three members of the team that wrote and recorded the commercials are Khalid Miller, Malcolm Edwards and Joenique Alleyne.
The commercials are airing on local, youth-oriented radio stations, and the five young people responsible for them feel good about what they've done.
"They give young people a wakeup call to realize about what's out there that could affect their lives," Albert said.