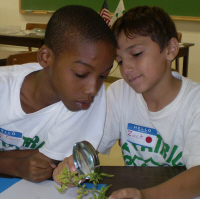 Close to 80 elementary and junior high students got up close and personal with garden pests and got their hands dirty in a Youth Garden Workshop Tuesday.
The Youth Garden Workshop was sponsored by the University of the Virgin Islands Cooperative Extension Services, 4-H, and the V.I. Department of Agriculture.
"This is a good way to teach healthy habits," said Roberto James, agri-science teacher at John H. Woodson Junior High School. "This can change their outlook on life. A healthy environment means healthy individuals." James, who has attended the workshop in previous years, brought four handpicked students from the eighth grade. The students will go back to school and do a presentation for classmates on what they learned.
The students began the morning with classroom instruction at UVI, then went to the Agricultural Fairgrounds to plant vegetables.
Jeff Keularts, an entomologist at UVI-CES, had the children identify pests on vegetable plant leaves using magnifying glasses. The students weren't squeamish in the least but were engrossed in checking out the bugs. The UVI entomologist told the students that aphids will reproduce for generations without male aphids around. He explained how to mix and how often to use soap solutions for bug killer.
"If you put too much soap on or too often you can kill the plants," Keularts says. "But it's easy to wash it off."
Marthious Clavier, communication and technology specialist at UVI-CES, spoke about the importance of record keeping on a farm.
"With record-keeping you can look at what type of crops will make you the most money," Clavier says. "You make decisions on farm management from records. Record keeping is a very necessary part of the farm."
He said all kinds of records such as the cost of topsoil, seeds and seedlings is important. He added it is best to do record keeping frequently or as soon as it happens so the facts aren't forgotten.
Rudy G. O'Reilley, USDA district conservationist, gave a presentation on soil. Carlos Robles, acting assistant director of UVI-CES, told the students about site selection for gardens. A class on seeds and seedlings was led by Jacqueline Kowalski, horticulturist at the V.I. Department of Agriculture.
The Department of Agriculture provided the seedlings and space at the fairgrounds for the students to plant gardens in three plots.
The students measured the plots and figured out what plants to put where according to height and how far apart the rows and plants should be spaced. They planted tomatoes, peppers, eggplant, lettuce, celery, parsley, dill, basil, and thyme in the planed box gardens.
"The schools will be planting gardens as a result of this," said Sarah Dahl-Smith, 4-H extension agent. "They can use gardening as a teaching tool across the curriculum. This teaches leadership skills, problem solving, and critical thinking." She added the Department of Agriculture will provide seedlings and seeds of all sorts to the schools and students will eventually be invited to form 4-H gardening clubs.
"I liked learning how to take care of the vegetables that will help my body stay healthy," said Myra Soto, a seventh grader at St. Patrick's.
Students came from John H. Woodson, Elana Christian, IQRA Academy, Manor School, and AZ Academy, Lew Muckle, School of the Good Shepherd, St. Patrick's and Alfredo Andrews schools.