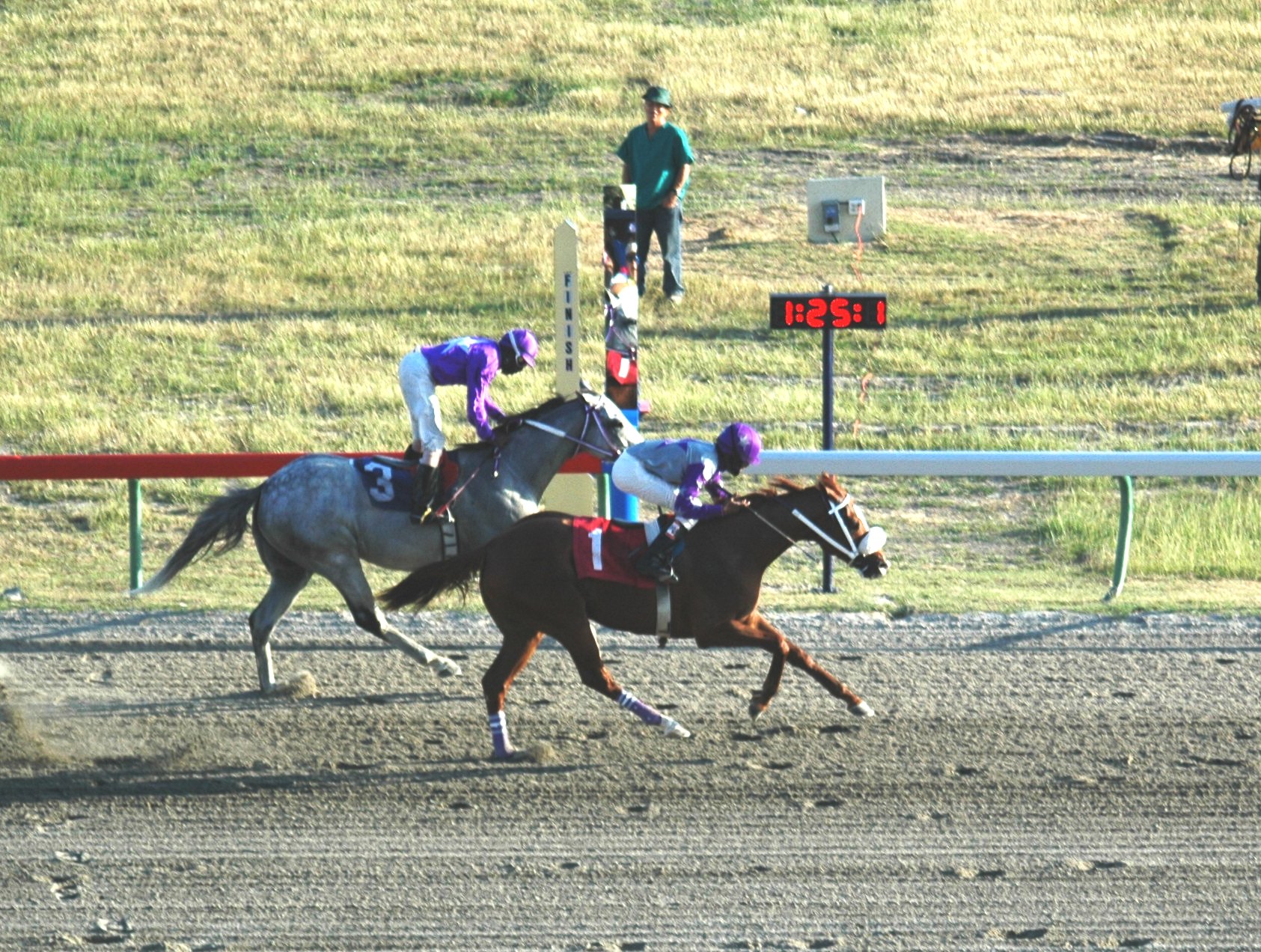 Racing fans at the Randall "Doc" James race track Sunday were stunned when local fan favorite Carse was defeated by St. Thomas's Questionable Sky by a half-length in the seven-furlong feature "V.I. Agriculture Fair Classic."
It was the first race back for the previously undefeated Carse after an injury had sidelined him for over a year.
But that didn't matter to the fans as they expected to see their champ dominate as before. However, that was not to be, as Questionable Sky, under a masterful ride from Crucian jockey Kevin Krigger, proved the better horse on Sunday, turning in a time of 1:25.2 in the seventh race.
At the break, as expected, speedsters Dashing Pirate and Green Sand led the seven-horse field by the grandstand for the first time. These two would take the field into the backstretch with Dashing Pirate a head in front of Green Sand, with Eltish Emerald and Questionable Sky just off the pace in third and fourth. This group was followed by Khun Dan, Carse, and Fancy Silver.
Carse was some six lengths off the pace when Jockey Elmo Barnes asked him for more. And Carse responded, much to the delight of local fans, by quickly going from sixth to first, heading around the far turn.
However, he did not draw clear and put away the field as in the past because this time he had a horse in Questionable Sky that was classy enough to go with him, visibly gaining as the field turned for home at the top of the stretch.
Krigger had Questionable Sky in top gear as they collared Carse when the field straightened at the top of the stretch to run to the wire, gradually edging ahead. Even though it appeared Questionable Sky had cleared to lead Carse by a full length, the former champ was not done yet. He was slowly gaining on the leader down the stretch but not fast enough, and Questionable Sky was able to hold on for the half-length victory. Green Sand held on for a game third.
The rest of the day's results are as follows:
Race 1 5-F
Time: 1:01.3
1. Dinero, Elmo Barnes (horse, jockey)
2. Small Fortune, Kevin Krigger
3. Turnbull Delight, Alphonso Claudio
Race 2 5-F
Time: 1:00.4
1. Destiny's Arrival, Christian Soto
2. Wiseman's Choice, Kevin Krigger
3. Cherokee Neesh, Alberto Ojeda
Race 3 7.5-F
Time: 1:35.4
1. Prince Crystal, Jesus Guadelupe
2. War, Jesus Suarez
3. Emerald Star, Christian Soto
Race 4 1-M
Time: 1:39
1. Big Thunder Reflec, Elmo Barnes
2. My Own Sky, Jesus Suarez
3. Lobito, Miguel Sanchez
Race 5 1-M
Time: 1:38.3
1. PuertoRican Emblem, Angel Vierra
2. Heats on Fire, Kerwin John
3. Vivid Cat, Miguel Sanchez
Race 6 7.5-F
Time: 1:31.1
1. WonderIfIamSpecial, Elmo Barnes
2. Flankers Lady, Jesus Suarez
3. Cinque Terre, Kevin Krigger
Race 8 7.5-F
Time: 1:33.3
1. Daddy Eddie, Kerwin John
2. Black Machine, Jesus Guadelupe
3. Prospector Fever, Alphonso Claudio